I love dumplings in every shape and form. These irresistible steamed pockets of dough filled with delicious fillings are my absolute favourite. To be completely honest, I had never made dumplings before the lockdown happened. The thought of neatly pleating the dumplings was extremely daunting for me. However once the Pandemic struck and we went into lockdown, there was no way to visit our favourite Asian restaurants or to order in, and I had no choice but to try and make them myself. To begin with, I saw a few You Tube tutorials on how to plete the dumplings. Once I felt confident, I kneaded some dough and got busy practicing. The first several attempts were utter disaster, the process that looked fairly simple in the videos was quite the opposite in real life. I made some extremely odd shaped dumplings in the beginning, however slowly I got a hang of the technique and got better at pleting them. What really helped was that I continued to practice even though it seemed like a difficult feat to accomplish. If you are someone who has not made dumplings before and wishes to learn, I would recommend that you practice and I promise slowly it will come to you. I now make dumplings with various ingredients and fillings and I must say that to be able to be in full control of what ingredients you use to make the dough and filling feels great. I enjoy using clean ingredients like Spinach, Beetroot, Purple Cabbage, Turmeric etc to making colourful wrappers. I also love creating varied fillings like Mushrooms, Sweet Potato, Tofu, Cheese, Soy Mince etc.

ABOUT DUMPLINGS: The infamous Dumplings are loved by all across the globe. In Asian cuisine loosely speaking dumplings are thin layers of dough stuffed with a filling. Although the more popular dumplings are the savory ones, they can also be made sweet. Once filled and neatly pleated, the dumplings may be boiled, steamed or fried to cook. Usually the dumpling dough is made from three simple ingredients: flour, water and salt. However there are many other kinds of dumplings made using Tapioca Starch, Wholewheat Flour, Semolina etc. They are one of the most versatile dishes that can be be made using various flours and filled with innumerable fillings.
INGREDIENTS FOR THE DOUGH: The ingredients I've used to make these Dumplings are simple. The outside wrapper literally takes four ingredients like water, wholewheat flour, salt and dehydrated beetroot powder.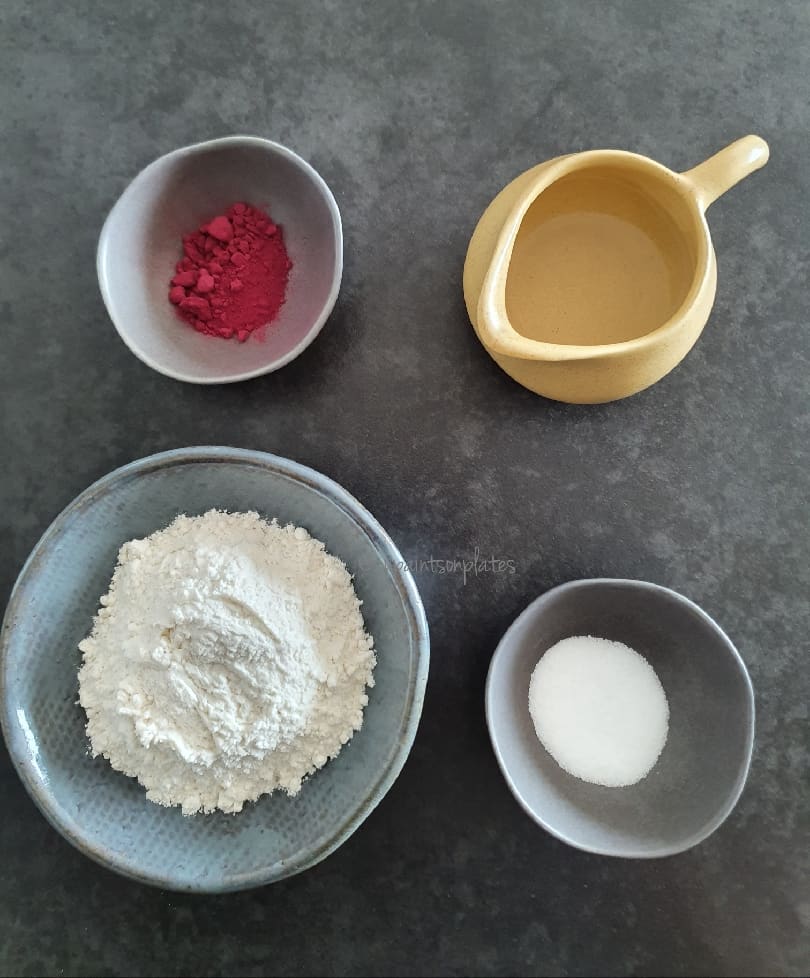 HOW TO MAKE THE DOUGH: To make the dough I have used a cup of all purpose flour, 1/4 tsp beetroot powder, salt to taste and enough room temperature water to knead this into a slightly firm dough. After kneading, I let it rest for an hour. I like to keep the dough wrapped in cling film until I'm ready to roll it out.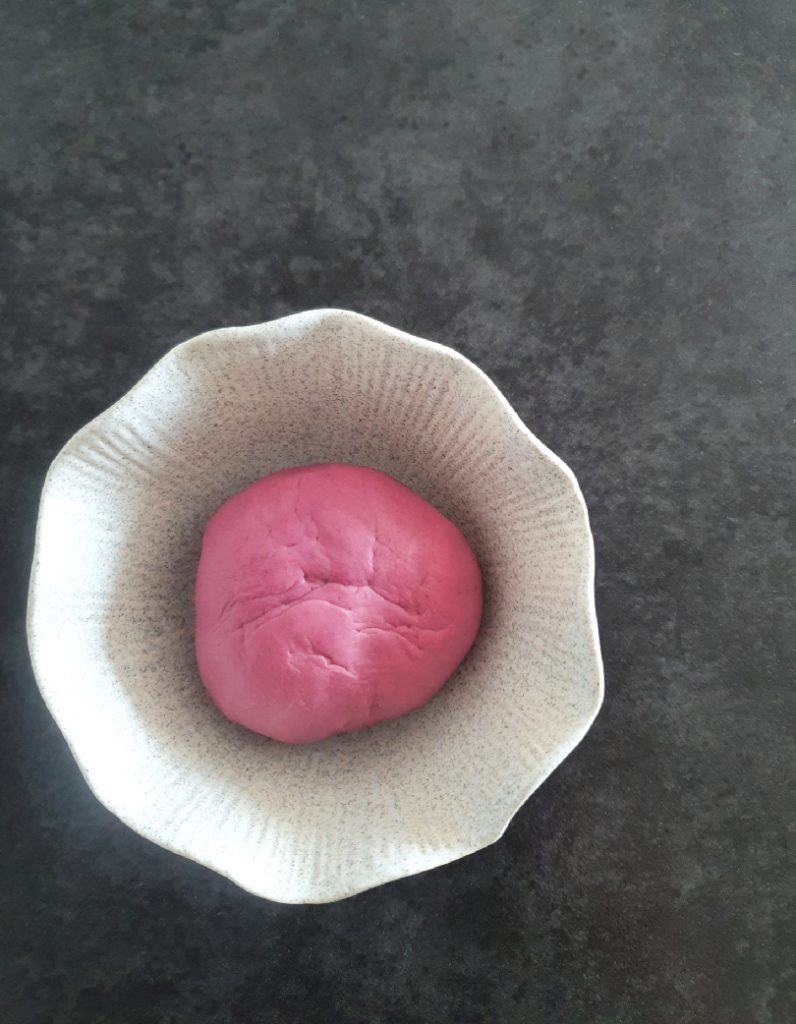 INGREDIENTS FOR THE FILLING: The filling I've used here is quite simple. I've used firm Tofu, finely chopped Ginger and Garlic, lots of chopped Coriander and coriander stem, chopped Green Onions, finely chopped Purple Cabbage and salt to taste.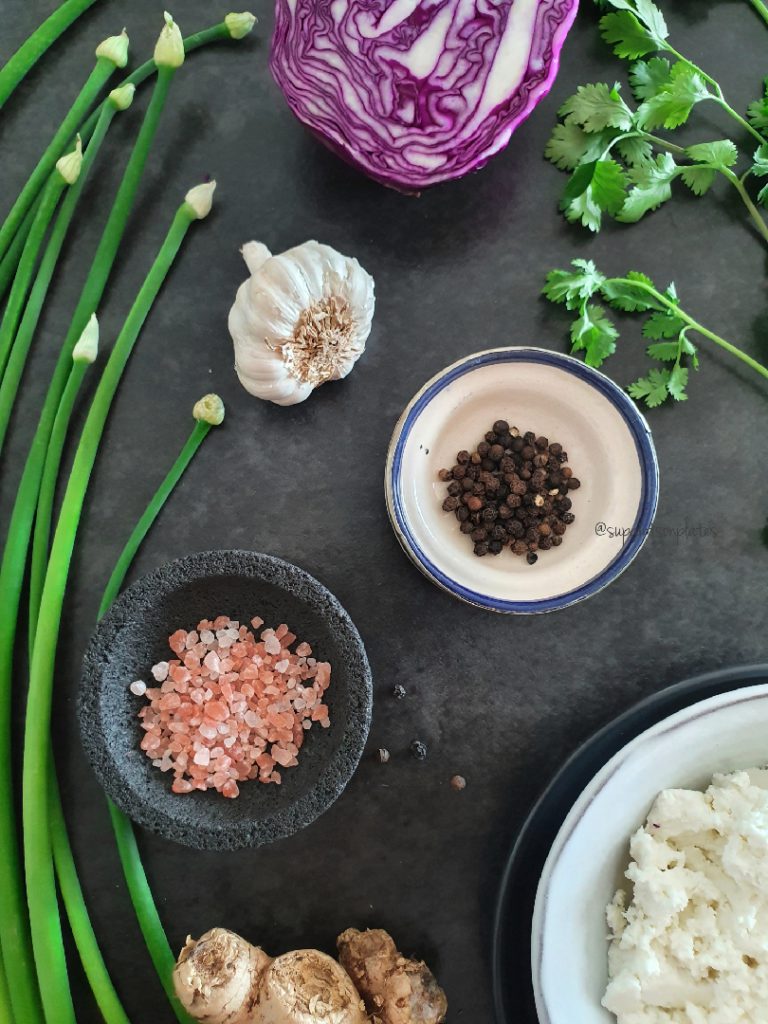 HOW TO MAKE THE FILLING: For the filling I crumbled some Tofu, added finely chopped Ginger and Garlic, lots of chopped Coriander and coriander stem, chopped green Onions, finely chopped Purple Cabbage and Salt to taste. I like to make this filling just when I'm ready to stuff the dumplings otherwise cabbage may get watery and make it impossible to plete the dumplings.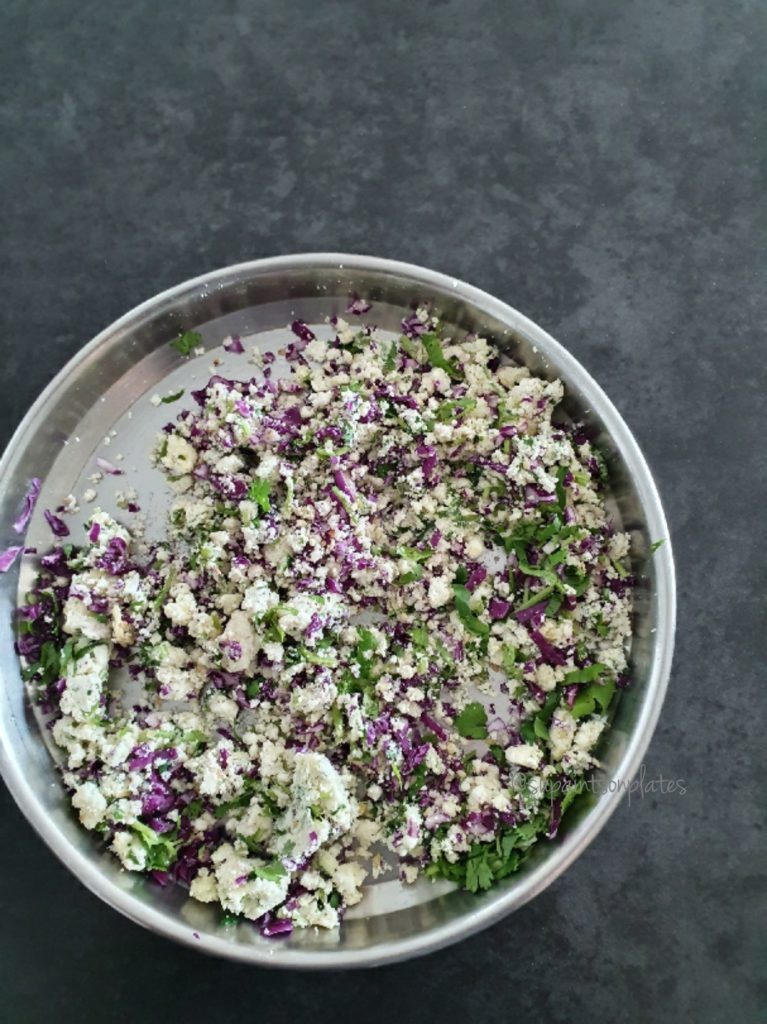 HOW TO MAKE BEETROOT DUMPLINGS: To make the dumplings, I dust the dough with flour, divide it into two parts and roll out each part into a thin sheet. I cut this thinly rolled dough into round shapes with a cookie cutter. I fill these circles with the filling and plete them while tightly securing the sides by pressing it with my fingers. It is upto you if you would like to steam the dumplings, boil them or cook them in a pan like Potstickers. The choice is yours. Either way they taste utterly delicious.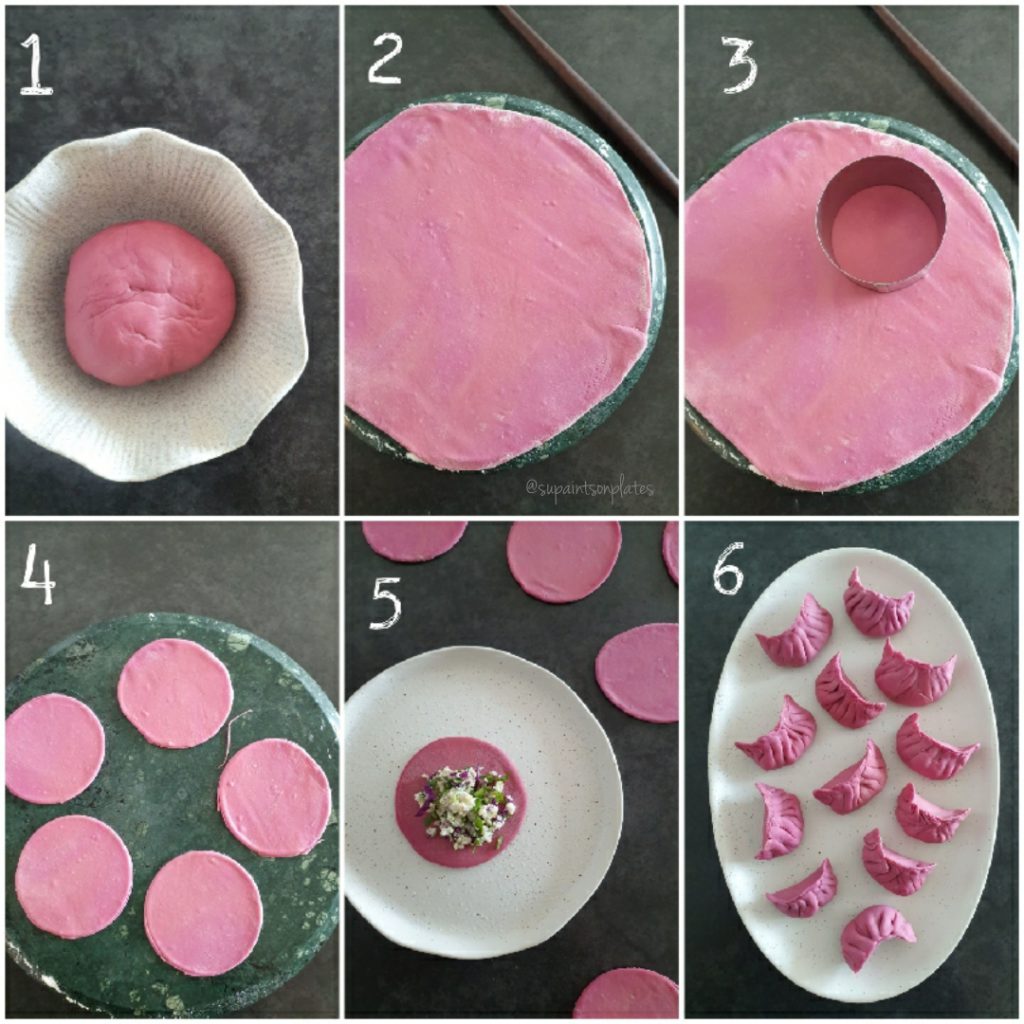 HOW TO SERVE BEETROOT DUMPLINGS: I like to serve these dumplings with light soy sauce and some spicy sauce. You can also serve these with sweet chilli sauce, scallion sauce, chilli oil, hot sauce or any other sauce of your choice.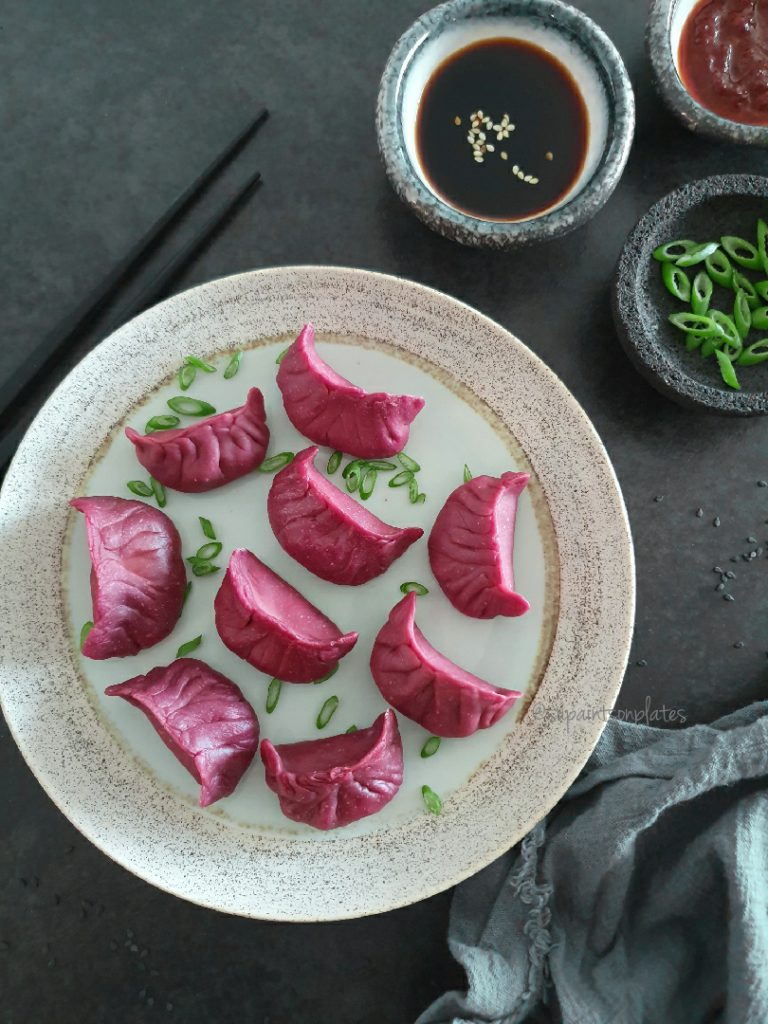 VARIATIONS: Once you have a hang of how to make dumplings, you can make them using various ingredients. I make them in several colours using Beetroot, Spinach, Winter Greens, Purple Cabbage etc. For the filling, the options are limitless. You can make the filling using vegetables sauteed in Garlic and Oil. You can also use minced Soy to make the stuffing. I also love stuffing the dim sum with Sweet Potatoes and Cilantro. A few other of my favourite fillings are made with Edamame, Mushrooms and Cream Cheese.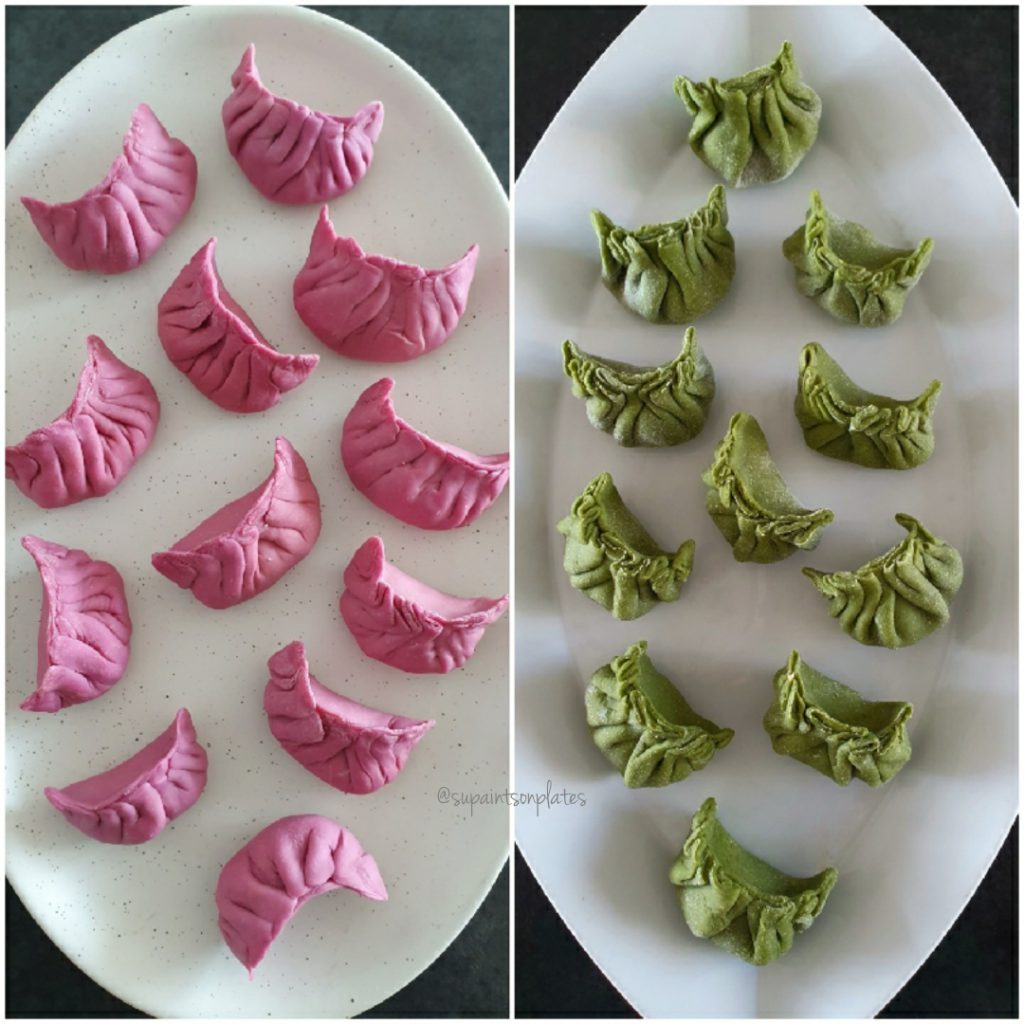 HOW TO STORE DUMPLINGS: If you are lucky and have some leftover dumplings, they can be stored in the refrigerator for a couple days. You can also make extra dumplings, dust them with flour and store them in ziplock bags in the freezer for a couple months (as shown in picture). When you are ready to eat them, pull the ziplock bag out of the freezer and leave it in the refrigerator overnight. All you need to do next day is to steam the dumplings or cook them in a skillet and you will have a meal ready within minutes.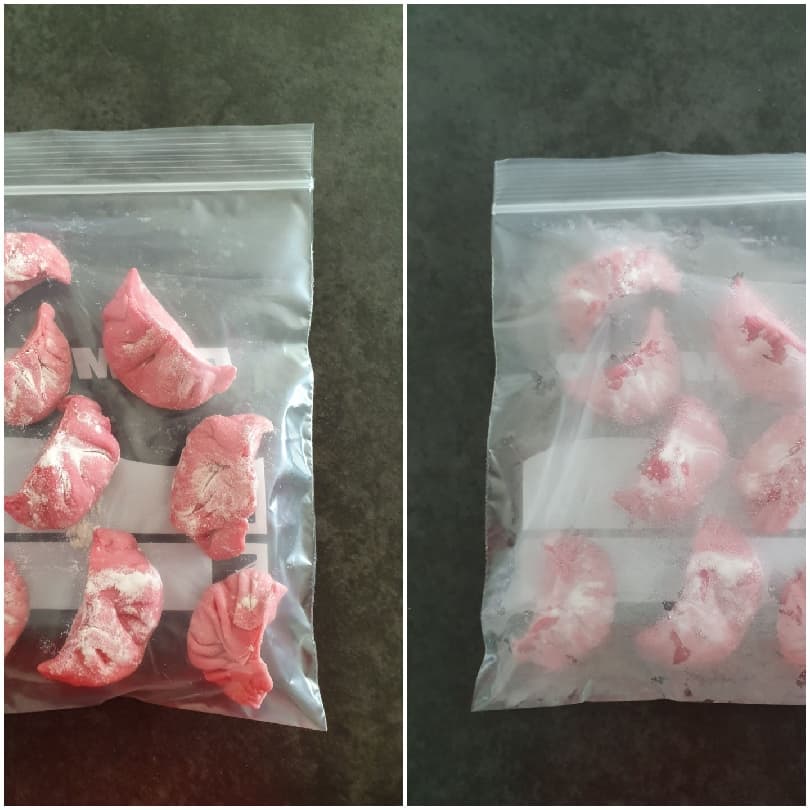 If you happen to make my vibrant pink Beetroot Dumplings, please do tag me in your pictures on Instagram @supaintsonplates #supaintsonplates. I would be delighted to hear from you.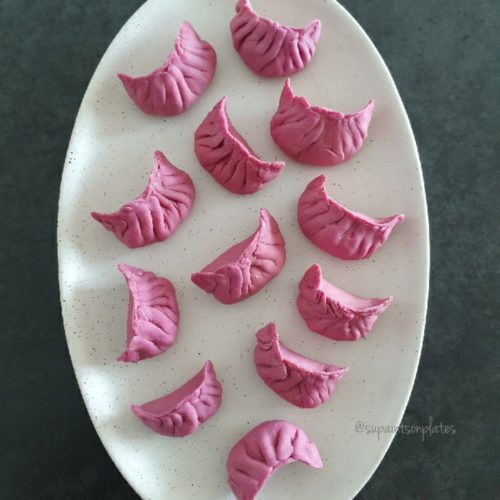 BEETROOT DUMPLINGS
Vibrant Pink Dumplings made using Beetroot and few simple ingredients. These addictively delicious dumplings are a must try.
Ingredients
1

Cup

Flour

all purpose

1/4

tsp

Beetroot Powder

1/4

Cup

Water

room temperature
FOR THE FILLING
1 /2

Cup

Purple Cabbage

finely chopped

1

Cup

Firm Tofu

crumbled

2

tsp

Ginger

finely chopped

2

tsp

Garlic

finely chopped

2

tbsp

Green Onions

finely chopped

2

tbsp

Coriander

finely chopped

Salt

to taste

Black Pepper

to taste
Instructions
Combine the flour, beetroot powder, salt and enough water to knead a medium firm dough

Wrap the dough in cling film and let it rest for half an hour

In the meantime prepare the filling

Mix tofu, purple cabbage, ginger, garlic, scallions, coriander, salt and pepper

Now divide the dough into two parts, dust it with flour and roll out into thin sheets with the help of a cookie cutter

Stuff the round dough circles you cut with the filling and pleat them neatly

Once all the dumplings are pleated, place them in a steamer and steam for about 12-15 minutes

Serve with soy sauce, chilli sauce or any asian sauces of your chioce
Notes
Although I've used all purpose flour in this recipe, you can replace it with whole wheat flour if you'd like. I find that the dumplings made with whole wheat flour are a bit more doughy, however they are healthy and taste great too.
FAQ'S
Q)Can I use wholewheat flour to make these dumplings?
A)Yes definitely you can use wholewheat flour to make dumplings.

Q)How do I freeze dumplings?
A)Dust the uncooked dumplings with a little flour and transfer them to a ziplock bag placing them away from each other. Now you can freeze them for a couple months.

Q)What do I do if I cant find Beetroot powder?
A)You can use beetroot juice however the colour will fade a little once you cook the dumplings, unlike when you use powder.

Q)What other ingredients can I use to make colourful dumplings?
A)You can use spinach, coriander, winter greens to make green dumplings, turmeric to make yellow ones and purple cabbage to make purple ones.