Mother sat in the sun sipping the prettiest crimson drink. The rays of the sun danced on her glass making the drink look more alluring. I stood intrigued wondering what it was that my mom was drinking. My first sip of Kanji was not what I had expected it to taste like. It was sour and pungent, not flavours a child would enjoy. That I slowly began to enjoy it is a mystery to me. I have on several occasions tried to coax my boys to taste the drink and failed miserably. I often wonder how my parents managed to get us hooked to this pungent concoction.

Once I had developed a taste for Kanji, there was no looking back. I would wait anxiously for black winter carrots to arrive. Mom would peel and chop them neatly into batons, transfer them to a large ceramic jar. Water, spices and kala namak/ rock salt were added and the Kanji was left in the sun for three to four days to ferment. Few days later when we opened the jar, the Kanji would have miraculously obtained a stunning red colour. I enjoyed sipping on it and eating the pickled carrots too. Few days later, once we had consumed the whole jar we would add more carrots and water to the old carrots along with the spices and leave them to ferment. This process lasted the entire winter until black carrots were no longer available.

Surprisingly my mother was the only one in her family who made Kanji. She has three sisters and a brother and everyone patiently waited for her to make Kanji so they all could get together and enjoy it. Over the weekends my uncles and aunts would visit us and innumerable glasses of Kanji were poured and relished in the garden while soaking the winter sun. I have many happy memories attached to this drink.

We recently moved to Delhi and this is our first time staying in the North of India (our home) in the last eighteen years. Everytime I visit the local vegetable market I cannot explain the exhilarating joy I feel seeing all the gorgeous winter produce. They evoke memories and nostalgia and I find myself making pickles and various other winter delicacies which I had missed out on for the last several years.
HEALTH BENEFITS OF CARROT KANJI: Kanji is a fermented probiotic drink that promotes healthy gut bacteria. It is infact so good for our gut health that it has been called the "Indian Kombucha". It is ironic then that while a lot of us are buying expensive Kombucha, Kefir, Sauerkraut and Kimchi, very few of us know about this miracle elixir that is so simple to make and miraculously healing for our gut. Kanji is loaded with antioxidants, Vitamin C, magnesium. Kanji is also a great immunity booster and helps in lowering bad cholesterol. By adding Kanji to our daily diet, we are adding beneficial enzymes to our body which help enhance our gut health, digestive and immune system.

THE PROCESS OF FERMENTATION: In a layman's words, fermentation is a process that breaks down carbohydrates like starch and sugar by bacteria and yeast. In the absence of oxygen, the energy is extracted from carbohydrates. Fermentation is an ancient art of preserving food that gives a sour and zesty flavour to the food/ beverage.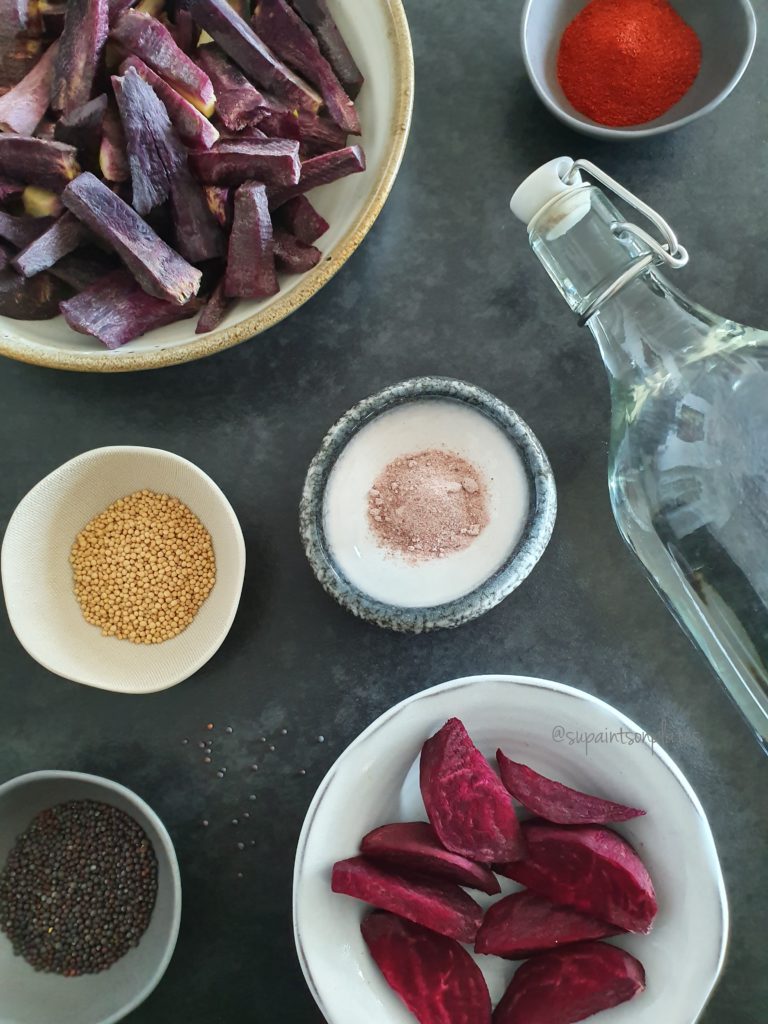 INGREDIENTS TO MAKE CARROT KANJI: Kanji is made by combining few simple ingredients. It takes literally minutes to put together. The magic happens when the sun hits the jar of Kanji and the drink slowly ferments. With literally five easily available ingredients one can whip up a jar of Kanji in no time.

BLACK CARROTS/ KALI GAJAR: The key ingredient used to make Kanji is black Carrots. This is the only ingredient that is not available year round. Black carrots hit the market only in winters. If you want to make Kanji in any other season, you can use red carrots and add some Beetroot for colour. Black carrots are high in fibre, antioxidants and minerals. They aid digestion and help combat inflammation in the body.

MUSTARD SEEDS: Mustard seeds are high in calcium, manganese, omega 3 fatty acids, zinc and iron. They are extremely beneficial for cardiovascular and bone health. They also aid in digestion. Although you could use only black mustard seeds to make Kanji, I like to use a mix of black and yellow mustard seeds. The black seeds are more robust and pungent while the yellow seeds are sweet and mellow. I like the flavour combination of these two together. Mustard seeds are what give this Indian probiotic drink its peculiar pungency and tanginess.
BLACK SALT: Popularly known as Kala Namak, black salt is a healthy form of salt. It is a kind of Indian Volcanic rock salt. In Indian Ayurveda, Kala Namak is highly acclaimed for its innumerable therapeutic properties. Kala namak helps with digestive issues, regulates blood pressure, improves iron levels, eases joint pains, and strengthens bones.
RED CHILLI POWDER: Although any chilli powder can be used for this recipe, I choose to use Kashmiri Chilli Powder. This chilli powder is mildly spiced and gives a beautiful red hue to our Kanji. In addition to this, Kashmiri mirch is loaded with antioxidants, Vitamin C, magnesium and potassium.

BEETROOT: While beetroot is not necessarily added to Kanji, I strongly recommend that you do. It provides the most beautiful crimson colour to our drink making it irresistibly glorious. In addition to its magnificent colour, Beets are extremely nutrient dense. They are a very good source of dietary fiber, folate, potassium, manganese, Vitamin C, iron, zinc, copper and magnesium. They have super antioxidant properties and help to detox the body naturally.

WATER: While it is completely ok to use regular filtered water to make Kanji, I like to boil and cool the water. This ensures that the Kanji stays fresh for days and there are no impurities. Do keep in mind that the water must have cooled completely before being added to the carrots. Warm or hot water would cook the carrots and the drink would spoil.

HOW TO MAKE CARROT KANJI:
Kanji is made by mixing black carrots, black salt, chilli powder, powdered mustard seeds and water and leaving in the sun for few days to ferment. It is extremely simple to make. I peel and chop Black Carrots into batons, I add this to a glass jar. I then add 1 large Beetroot also chopped into long batons. To this I add black salt to taste, 2 tsp of powdered black mustard seeds and 2 tsp of powdered yellow mustard seeds, red chilli powder and 1.5 litres of boiled cooled water. I stir this mix, close it with a tight lid and leave it in the sun for three days. After three days, I open the jar, mix the Kanji and store it in an airtight container in the refrigerator.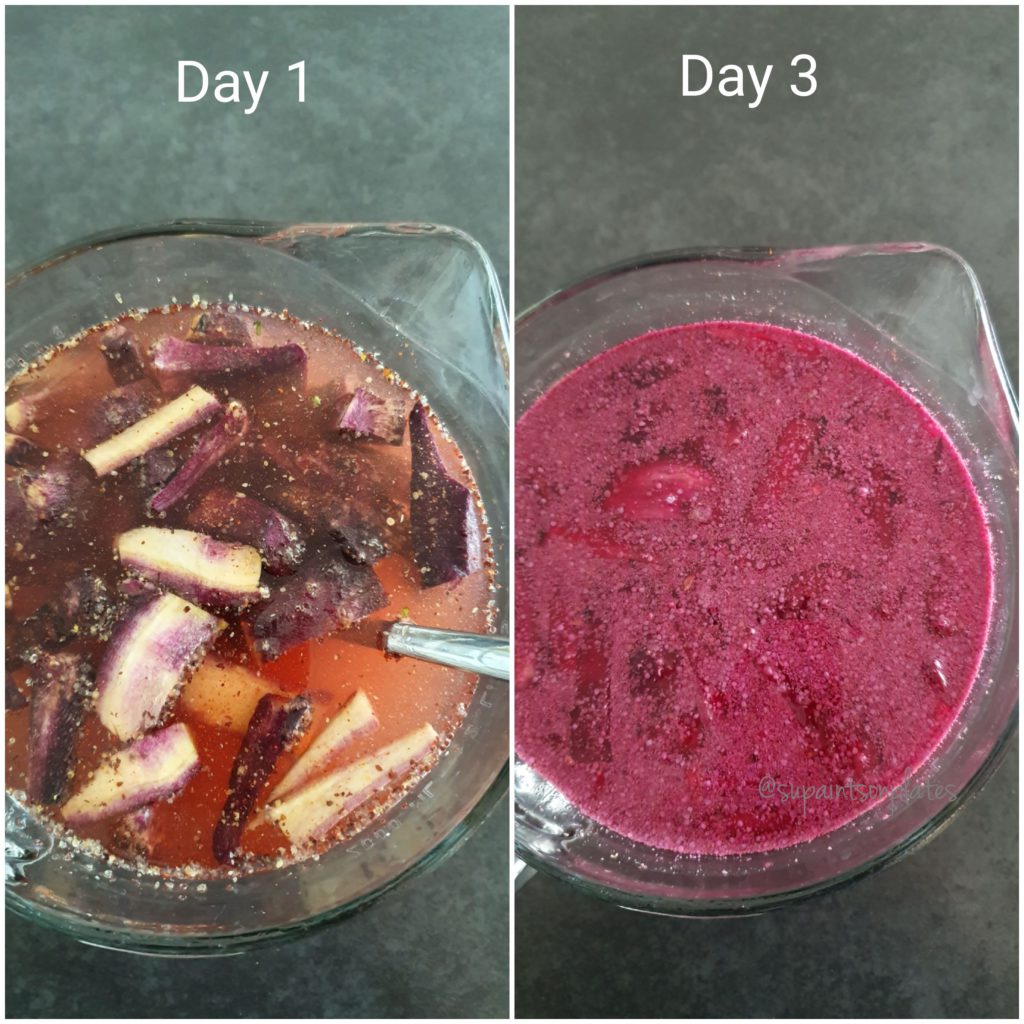 HOW TO SERVE CARROT KANJI: Kanji is served in glasses with a few pieces of pickled carrots. I enjoy munching on the sour carrots once my drink is over. Since its winters I prefer to serve the Kanji at room temperature. If it is stored in the refrigerator, pour into glasses and leave on the Kitchen countertop for some time. While Kanji can be consumed any time of the day on it's own, I quite enjoy having a glass of it with my lunch.
Do try my simple recipe and let me know your thoughts. You can tag me in your images on Instagram @supaintsonplates #supaintsonplates. I would love to hear from you.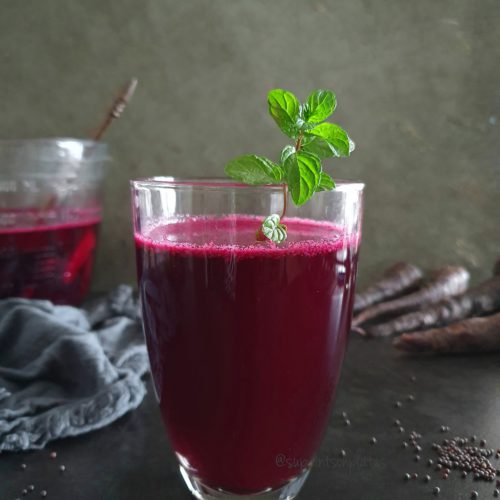 CARROT KANJI
Kanji is a fermented probiotic drink that promotes healthy gut bacteria. It is extremely good for our health and has been called the "Indian Kombucha".
Ingredients
5

Black Carrots

2

tsp

Yellow Mustard Seeds

2

tsp

Black Mustard Seeds

Red Chilli Powder

to taste

Kala Namak

to taste

1.5

litres

Water
Instructions
Peel the Carrots and cut them into batons

Take a big glass or ceramic jar and wash it well with hot water. Dry it properly before making the Kanji

Add the yellow and black Mustard Seeds to a spice blender and blend coarsely

Add water, diced carrots, red chilli powder, kala namak and powdered mustard seeds to the jar

Mix the ingredients with the help of a ladle. Secure the lid and leave this in the sun for three days.

Shake the jar everyday to ensure that the ingredients incorporate properly

After three days, open the jar. Mix well and taste the Kanji. It should have obtained a deep red colour. Give it a taste. It should taste sour and fermented. If it does not taste sour enough, leave it in the sun for another day.

Once your Kanji is ready, it can be stored in the refrigerator for about seven days.
FAQ's:
Q) How can I make Kanji if I do not find black carrots?
A) You can make Kanji with regular red or orange Carrots as well. Beetroot can be added to achieve the deep red colour.
Q) Is Kanji good for health?
A) Kanji is a fermented probiotic drink that promotes healthy gut bacteria. It is infact so good for our gut health that it has been called the "Indian Kombucha".
Q) How many days does it take for the Kanji to ferment?
A) Usually three days in the sun is enough for the Kanji to ferment, however if you are in a cold place with little or no sun, you can leave the Kanji to ferment for an extra day or two.
Q)How many days can I store the Kanji without it going bad?
A) You can leave the Kanji in the refrigerator for a week to ten days.