Good food is the foundation of genuine happiness.

Auguste Escoffier
When I look back, a lot of what I eat today is connected to the way I was raised. My parents worked hard to make a living and eating out was a luxury for us. We looked forward to days when we would go out and enjoy a meal at a restaurant. I think this may also be the reason why I started cooking at such a young age.
My mother's cooking was always rushed as she was a working woman. I took over her kitchen at a very young age and took it upon myself to feed the family fancy meals. Of course I was completely naive then and only understood and cooked with few familiar ingredients.
Green leafy vegetables were available in abundance in Dehra Dun through the year. My father had a habit of bringing us bags of fresh leafy vegetables and herbs each day. He also had a small vegetable garden he tended to over the weekends. My mother came home exhausted from her work therefore I would often cook dinner. I remember vividly how much my father loved and appreciated my cooking. He said I had a knack of adding the right balance of ingredients that made my food special. I would add a few tablespoons of whisked yogurt to my lauki Kofta gravy along with a sprig of mint from the garden and it would elevate the dish. I was only 12 or 13 and the kitchen was my playground even then.
Today I share a plethora of different recipes from various cuisines with you all. I'm well read, well traveled and confident of my cooking. However at heart I'm still the girl who picked herbs from her dad's garden to make him a meal that would please him after a long difficult day.
My recipe today is a Coconut and Herb Chutney that is inspired by South Indian Cuisine.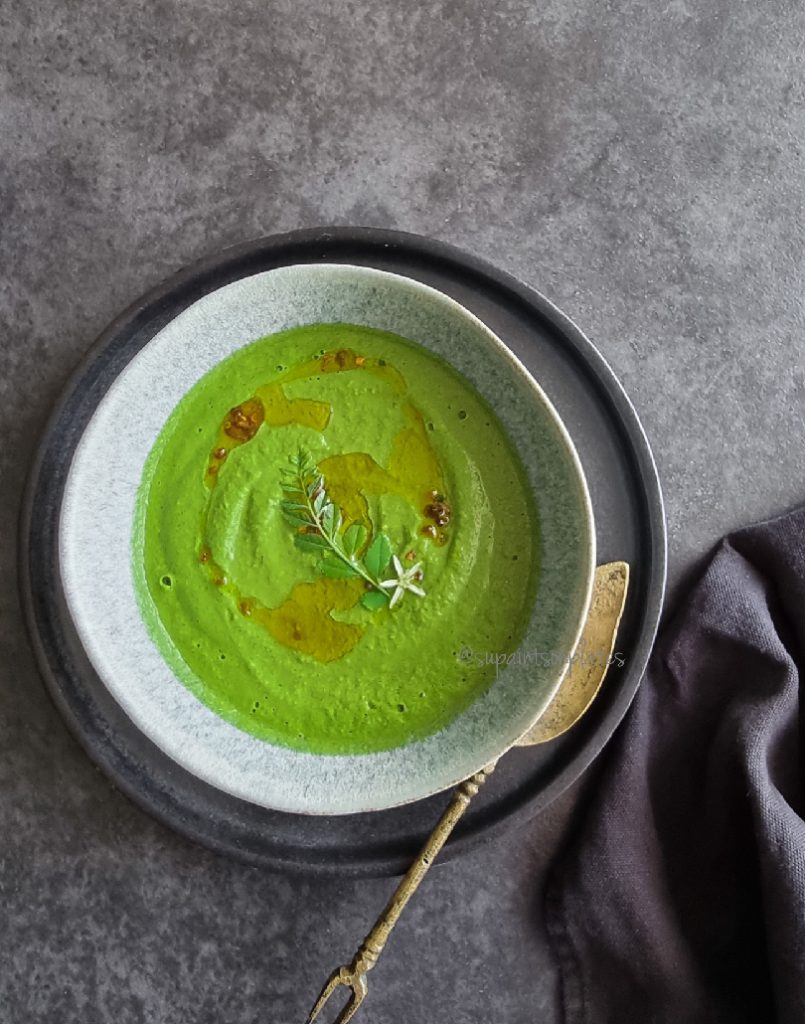 Although I'm North Indian by birth and upbringing, my love for South Indian food is known to you all. I made a similar version of this Chutney often back home. I would pick raw Mangoes, Coriander, Mint and Ginger from the garden and make a spicy dip to go along with our meal. Today I'm sharing a slightly elevated version. The Coconut, Curry leaves and Peanuts are very delicious and nutritious additions to my Chutney. If you are a lover of home made Pickles, Chutneys and dips, you cannot miss this one.
For me, a bite of this takes me back to my mom's kitchen, to my dad's kitchen garden and to our rickety dining table. There are some happy memories and some painful ones that still need healing. That is what food does.. it heals us slowly.. not just our body but our soul too.

Coconut & Herb Chutney
A delicious and unique herby South Indian Chutney to go along with your Idlis, dosas and Uttapam
Ingredients
1

tbsp 

dessicated/ Fresh coconut

grated

1

small raw mango

skinned and sliced

1

tbsp

Roasted Peanuts

ginger 

1/2 inch piece

Salt to taste

2

tbsp

fresh Coriander

2

tbsp

fresh Mint

18-10

Curry Leaves

Green Chillies

to taste

1/4

Cup

Water 
Ingredients for tempering
1

tbsp

Gingelly Oil

2

Green Chillies

finely chopped

1

tbsp

Mustard Seeds

1

tbsp

Cumin Seeds

5-6

Curry Leaves
Instructions
Transfer all the ingredients to a power blender. Blend to a fine consistency. Transfer to a bowl.

Now pepare the tempering. Add oil to the pan, once hot add the Mustard and Cumin Seeds. Once the seeds crackle, add the green chillies and Curry Leaves. Stir for a few seconds and remove from stove.

Top the Chutney with this tempering and leave to chill in the refrigerator until you are ready to eat