There is a certain guilty pleasure in eating pasta stuffed with cheese floating in a sea of basil flavoured luscious tomato sauce. I use extremely simple ingredients to bring this dish together. I find that Italian food is best left uncomplicated. "Less is more" is truly apt when cooking an Italian dish.
I cook the pasta shells in heavily salted water. I remember meeting an extremely passionate Italian chef in Dubai who gave me a few tips which stayed with me. He said that while boiling the pasta, the water must taste like the sea. Another tip he gave me was to never add oil to water while boiling pasta. I kept these tips in mind and have followed them over the years, never to be disappointed. I make pasta often. Mostly because it comes together effortlessly and is much loved by all in our home. I love to experiment with the fillings and sauces. However our most favourite one is this classic recipe. The Ricotta Cheese mixed with Basil, Parsley and Capers is stuffed inside Pasta shells that are cooked aldante. While the herbs lend a delicious fresh flavour to this dish, the Caper Berries make it seductively umami. I call them vegetarian anchovies.
I make the Tomato sauce using fresh ripe tomatoes, some tomato paste, lots of finely chopped garlic, a little paprika, brown sugar and some very good quality extra virgin olive oil. I close the lid and let the sauce simmer for half hour on a low flame. Once done, I add sea salt, fresh Basil and more Olive Oil. This sauce tastes like magic. If at this point you add a cup of milk, it makes for a really delicious Tomato soup too.
Coming back to this stuffed pasta dish, you can transfer the sauce to a baking dish, top with the Pasta Shells and leave in the oven at 200 degrees for 10-12 minutes. If you wish, you can top it with generous shavings of parmesan cheese ( I didn't). Either way, the pasta tastes delicious and be warned that you would want to go back for second and third helpings.
If you happen to make this dish, do tag me on Instagram @supaintsonplates #supaintsonplates.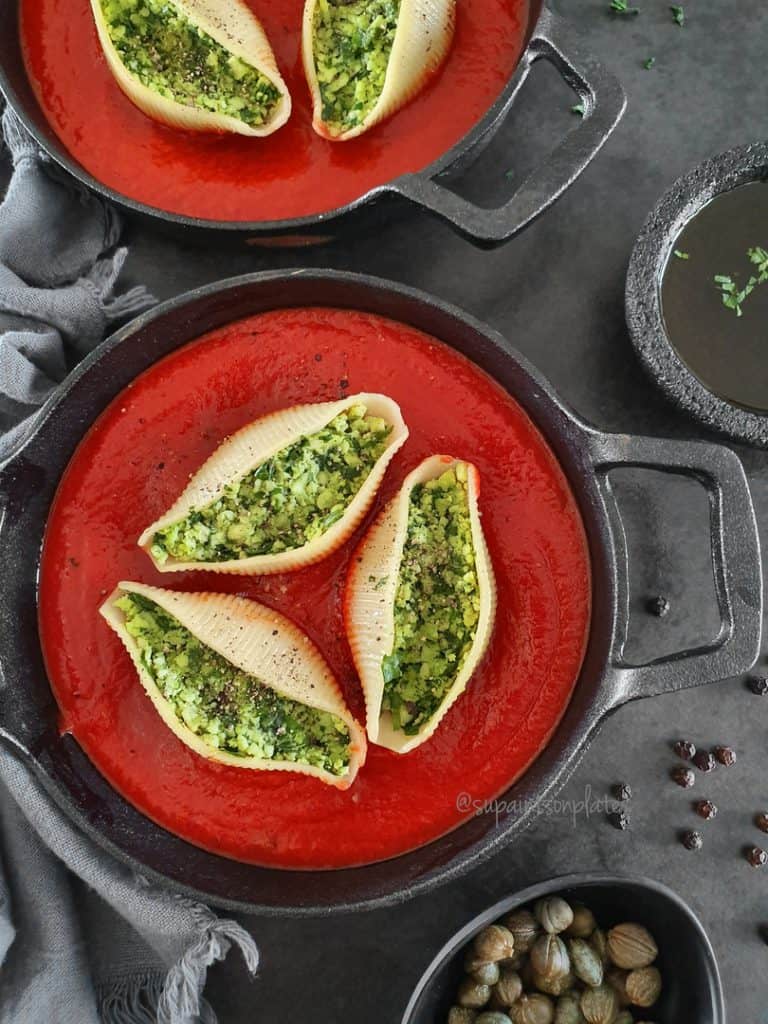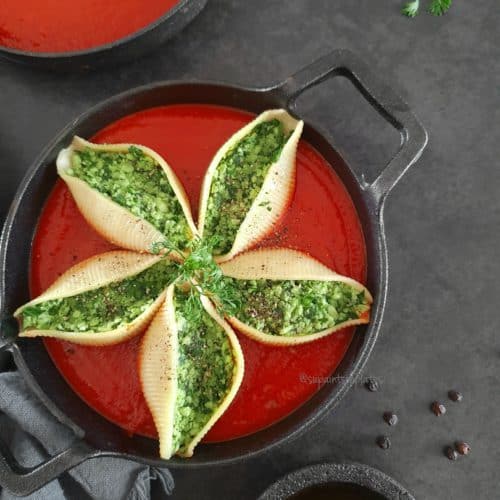 Herb Cheese Stuffed Pasta with Tomato Basil Sauce
Pasta shells stuffed with herb cheese, served with a fresh Tomatoes and Basil sauce
Ingredients
For Pasta
7-8

Store bought large Pasta Shells for stuffing

200

gms

Ricotta cheese/ Cottage Cheese

5-6

Basil Leaves

Finely chopped

2

tbsp

Parsley

Finely chopped

2

tbsp

Chopped Caper Berries

Optional

Salt

To taste

Black Pepper

To taste
For Sauce
3

Tomatoes

Pureed

2-3

Cloves

Garlic

Finely Chopped

Basil Leaves

Few

½

tbsp

Paprika Powder

Salt

To Taste

¼

tbsp

Brown Sugar

1

tbsp

Olive Oil
Instructions
To make the stuffed Pasta
Boil pasta in salted water till Al Dente (approx 12-13 mins)

In a bowl add Ricotta/ Cottage Cheese, Caper Berries, Basil, Parsley, Salt and Pepper.

Stuff this mix in the cooked Pasta shells and keep aside
To make the sauce
In a pan add the Olive Oil, once warm add Garlic and sautee till light brown.

Now add the paprika powder, pureed Tomatoes and the tomato paste, salt, sugar and fresh basil leaves. Cover and gently simmer for 25-30 minutes.

Transfer the sauce to a baking dish, top with the Pasta Shells and leave in the oven at 200 degrees for 10-12 minutes.

Top with olive oil and Parmesan Cheese (optional) before serving.