Caprese Salad is a very simple yet elegant Italian Salad made using fresh Mozzarella, Ripe Tomatoes and Basil leaves. The Vinaigrette used to marinate this salad is made with Sea Salt, good quality extra virgin Olive Oil and aged Balsamic Vinegar. Legend has it that this Salad was invented by a very patriotic bricklayer in Italy who would make sandwiches using Tomato, Mozzarella and Basil, the colors depicting the Italian flag.
Caprese Salad is a very famous Salad and is devoured all over the world. Caprese Salad also happens to be one of my favourite Salads. The simplicity of the ingredients in this recipe ensures that every single bite is fresh and flavourful. This effortless recipe comes together in minutes and saves me the trouble of cooking on a hot summer day.
I make Caprese Salad atleast once a week. It pairs beautifully with a large bowl of Pasta, some homemade Pesto and some crusty Sourdough bread. My boys like to add some grilled protein to this party too.
INGREDIENTS USED TO MAKE CAPRESE SALAD: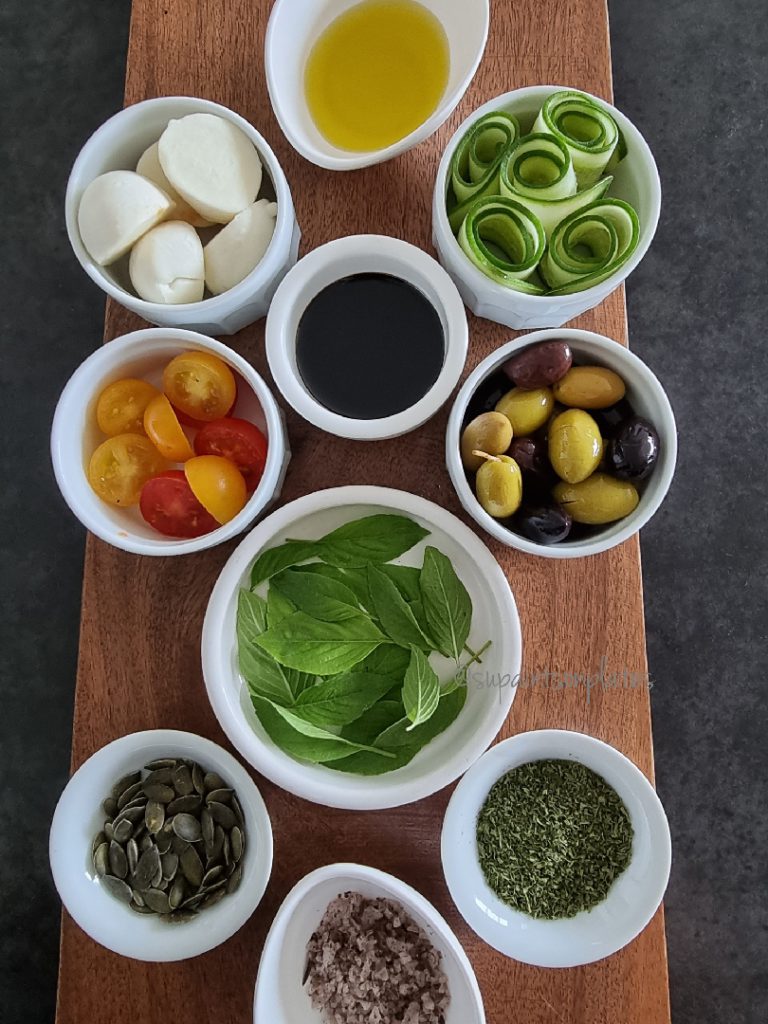 Without altering this classic recipe much, I've added few extra ingredients to make the salad more filling. Let's face it, when we sit down for dinner with the boys, a small bowl of Salad won't cut it. Therefore I've added Cucumber slices, fresh Olives and Pumpkin Seeds to make my Caprese Salad more hearty and filling. I was not able to find Italian Basil which is vital to this recipe, therefore I substituted with Thai Basil from my tiny balcony garden. If you can find sweet Italian Basil, I strongly recommend you use that. I have used Red and Yellow Cherry Tomatoes in my Caprese Salad, however large ripe Tomatoes will great too. In this recipe I've used Mozzarella morsels (Bocconcini) which I halved. If you find large Mozzarella, simply slice it and layer it on a platter along with Tomato slices and Basil. Good quality Extra Virgin Olive Oil is non negotiable in this recipe. Since this recipe calls for very few ingredients, every ingredient must add ample flavor to the dish. I've used herbed Sea Salt to add a little extra depth of flavor, however any good Sea Salt would be fine to use. I've also added some dried Oregano to my Caprese Salad however this is completely optional. Aged Balsamic Vinegar adds a delicious sweetness to Caprese Salad that I quite enjoy. Many traditional Caprese Salad recipes do not call for Balsamic Vinegar, therefore feel free to skip it if you do not have a bottle on hand. You can add a dash of lime juice instead.
SERVING CAPRESE SALAD: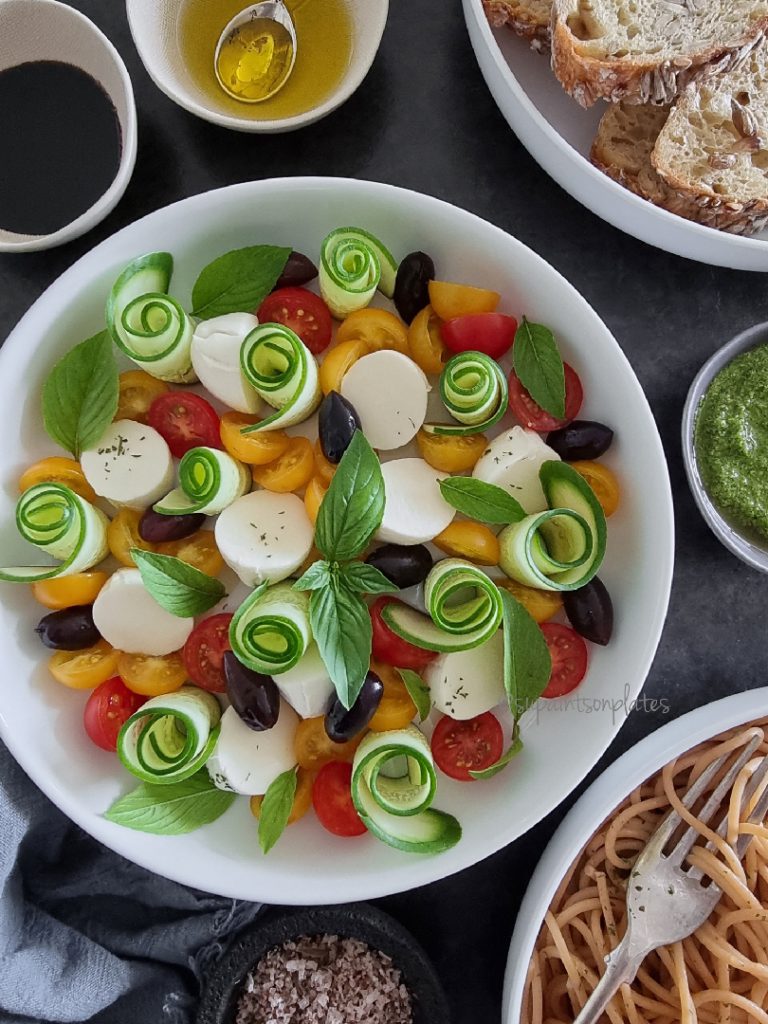 Caprese Salad is quite delicious on its own and is best enjoyed on a Summer afternoon with a chilled glass of wine. Caprese Salad makes for an excellent side dish too and can be paired with grilled Chicken, some crusty Bread or Pasta.
Do tag me on Instagram @supaintsonplates #supaintsonplates if you make my version of Caprese Salad. I would love to hear from you.
More Salads on my Blog:
Barley & Beetroot Salad, Som Tam Salad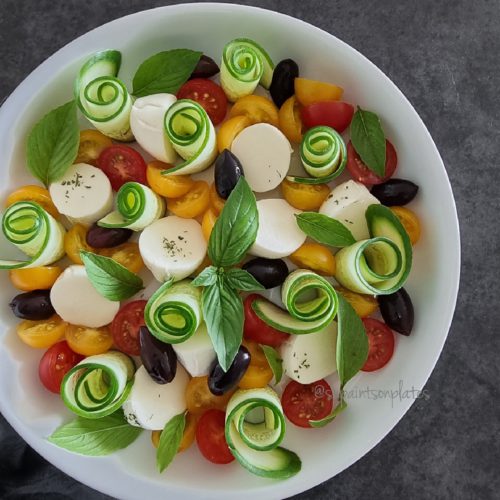 CAPRESE SALAD
My version of Italian Caprese Salad made with Mozzarella morsels, Cherry Tomatoes, Basil, Olives and Cucumber.
Ingredients
6-7

Bocconcini Cheese

Sea Salt

to taste

8-10

Basil leaves

1/4

tsp

Oregano

10

Red Cherry Tomatoes

10

Yellow Cherry Tomatoes

8-10

Olives

1

Cucumber

1

tbsp

Pumpkin Seeds

1

tbsp

Olive Oil

1/2

tbsp

Balsamic Vinegar
Instructions
Slice the Bocconcini into two and place on a serving dish

Slice the Cherry Tomatoes into two and place in the serving dish

Slice the Cucumber horizontally and roll up the slices

Add Olives, rolled Cucumber Slices and Basil leaves to the serving dish

Sprinkle Oregano and Sea Salt on the Salad

Top the Caprese Salad with a heaping tablespoon of Extra Virgin Olive Oil and a generous drizzle of Balsamic Vinegar