There are some ingredients that occupy a better part of your headspace. In my case that would be Beetroot. Over the years I've created innumerable recipes using this gorgeous ingredient and each time I've been in awe of its versatility and its drop dead gorgeous colour. And no, I am far from done yet! There is a plethora if Beetroot recipes in my mind itching to take a spot on my blog. Hopefully I will get down to working on them soon. Today let's talk about this glorious roasted Beetroot and Potato Soup.
With the arrival of monsoons and a slight nip in the air, I take solace in Soups. They are like a warm hug in a bowl. And when Beetroot, Potatoes, and Coconut Cream are involved, comfort is definitely guaranteed.
Beetroot Potato Soup is an easy-to-make recipe that can be assembled in no time! Though this Soup is made with easily available regular pantry ingredients such as Beetroot, Potato, Garlic and Ginger, the flavors are extremely sophisticated and will most certainly enchant your taste buds!
Roasted Beetroot & Potato Soup served with Garlic flavored Coconut Cream is a recipe I'm extremely excited to share with you. This Soup tastes dreamy and delicious and one of my favourites.
The oven baked vegetables marinated in spices add a delicious charred flavor to this soup. Beetroot is such a great vegetable to bake. Its flavour enhances and gets a delicious sweet earthiness once roasted and it's crimson color intensifies in multifolds.
My roasted Beetroot and Potato soup is a huge hit at every event I've served it at. I made this soup at one of my workshops recently and I was amused too see the audience completely mesmerized by its glorious color. Not to forget here that the flavours of the soup are equally delectable. My roasted Beetroot and Potato soup gets its delicious sweetness and a vibrant crimson hue from the roasted Beetroot, the silky creaminess comes from the Coconut Cream and the Potato starch and Bread give my Soup a dense body. I assure you that even Beetroot critics will fall love this delicious, hearty Soup.
Take a break from your regular dinner today and enjoy my Beetroot and Potato Soup with a swirl of Sour Cream or Yoghurt. I've flavoured the Yogurt with Garlic which makes the experience of devouring this beauty completely irresistible.
You can pair my roasted Beetroot and Potato Soup with some freshly toasted Baguette and a light salad! Share this hearty Soup with your friends and family at the next weekend game night and enjoy seeing them lick the bowls clean. Thank me later !
Don't forget to tag me @supaintsonplates #supaintsonplates on Instagram if you make this recipe. I would be delighted to hear from you.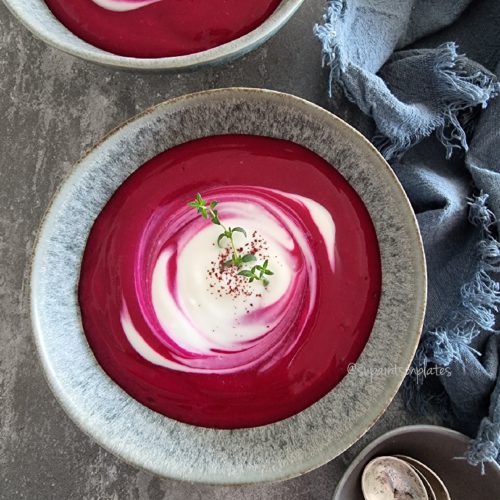 BAKED POTATO AND BEETROOT SOUP
A delicious, creamy and vibrant Soup made with roasted Beetroot and Potatoes. Sweet, spicy and silky, served with garlic flavored yogurt. You need this Soup in your life.
Ingredients
2

Beetroot

2

Potatoes

1

head of Garlic

cut into two

1/2

tsp

Garlic Paste

3

tbsp

Coconut Cream

Salt

to taste

2

Cups

Soup Stock

1

slice

Bread

3

tbsp

Olive Oil

1

tsp

Chili Powder

1

tsp

Coriander Powder
Instructions
Wash, clean and pat dry the Beetroot and Potatoes

Remove the skin and cut into big cubes

Coat them with Oil, Salt, Coriander Powder and Chilly Powder

Transfer to a baking trey along with the two garlic halves. Drizzle some more oil, cover with foil and bake for 40-45 minutes in the oven at 150C.

Once cooked through, remove the foil and let it cool.

Remove the roasted Garlic from the skin

Add the roasted Beetroot and Potatoes to the blender jaralong with Soup stock, Bread, Salt and roasted Garlic

Blend to a fine consistency

Transfer to a pot and bring to a gentle simmer

Add Coconut Cream to a small mixing bowl, add garlic paste and Salt and mix well

Top the Soup with garlic flavored Coconut Cream