It was dawn, I was up early. Everyone at home was still asleep. Most days I sleep till late, however some days I love quiet and meditative mornings where I can spend time with myself.
I had spent the previous evening making a beautiful lavender soup using purple Cauliflower I'd found at the farmers market. I had stored it in the refrigerator to shoot in daylight. I pulled it out, warmed it and spent an hour in my tiny studio photographing it.
It photographed well in the early morning light, the purple colour looking magical. I feel the serenity in my home that morning, reflects beautifully in this picture. It gives me so much joy, and takes me back to a very beautiful time in my life. Pictures are powerful, they bring back a plethora of memories and emotions. Don't you agree?
My soup today is Purple Cauliflower Soup. Smooth, silky and delicious. I topped it with sauteed chickpeas, cilantro and some cracked black pepper. If purple cauliflower is not available in your city, please use regular cauliflower. The taste remains unchanged.
If you try this recipe, do tag me @supaintsonplates #supaintsonplates on Instagram.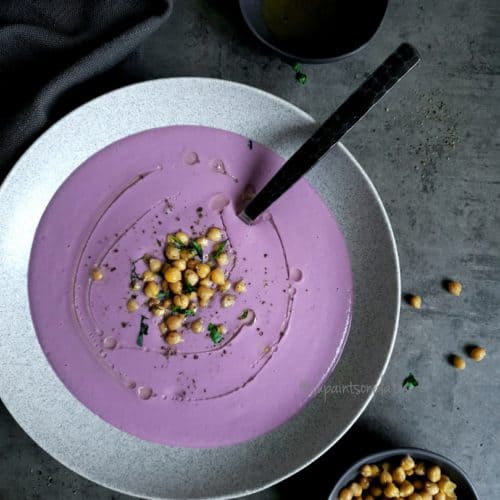 Purple Cauliflower Soup
A beautiful lavender colour silky concoction made with Purple Cauliflower.
Ingredients
1.5

Cup

Cauliflower

Roughly chopped

1

Potato

Medium size

1

Onion

6-7

cloves of garlic

½

Stalk of Celery

Chopped

1

Cup

Milk

1

Cup

Vegetable stock

Salt

3-4

Black Peppercorn

1-2

Bayleaf

1

tbsp

Olive Oil
For Garnish
2

tbsp

Olive Oil

3-4

Garlic Cloves

Chopped

Salt

To Taste

2-3

tbsp

Boiled Chickpeas

1

tbsp

Chopped Coriander
Instructions
Steam the Cauliflower in a steamer for 10-15 minutes until soft.

Heat a pan, add 1tbsp of Olive Oil

Add the Peppercorns and Bay leaf

Add the chopped onion and garlic. Sautee till translucent

Add Celery and sautee until soft

Add the Cauliflower and Potatoes and sautee for a couple minutes

Add the vegetable stock and bring to a gentle simmer

Now add a cup of hot milk and simmer gently

Remove from the stove and let the soup cool

Remove the bay leaf from the soup

Transfer to a blender and blitz to a fine consistency

Run the soup through a sieve to get a silky smooth consistency

Transfer to a pot and simmer on a low flame for a few minutes.
For Chickpeas
Heat a skillet, add 1 tbsp olive oil, add garlic and cook until light brown.

Now add the Chicpeas and sautee until slightly crisp.
To Serve
Transfer the soup to a couple bowls.

Top with the chickpeas, freshly cracked black pepper, chopped cilantro and a generous drizzle of Olive Oil.