After years of contemplation, I'm finally launching my blog today. Diwali celebrations have begun and today is my little sister's milestone birthday. Therefore I could not have picked a more auspicious day to begin.

My recipe today, is a really simple yet decadent Vegan Pumpkin Kheer. New beginnings must be celebrated with dessert, and this Kheer sweetened with Jaggery and infused with Saffron is the perfect recipe to welcome you to my blog.

Although I do not make many desserts, you will find me sharing a plethora of them during Diwali. I think it has to do with how we celebrated Diwali when we were younger. My mother, a very busy working woman, always found time to make us all kinds of sweets during Diwali festivities. I guess this is my way of keeping the tradition alive and giving my children Diwali memories of their own.

I make sure that we buy plenty of Mitti Diyas (handmade clay lamps) and flowers. For me Diwali is all about fresh start and new beginnings. We spring clean the house and dress it up with different hues of Marigold flowers and desi Gulab (Indian Rose). Beautiful clay diyas (lamps) light up all corners of our home. We've never enjoyed burning crackers so we leave them out completely. We had planned to be back home with our parents this Diwali, however due to the pandemic our plan fell through. Therefore Diwali this year will be a quiet affair, with just the four of us cooking together, decorating the house and creating precious memories.

My dessert today is very special. Since our friends and neighbours have already started sending us boxes of Mithai (Indian sweets). I thought it would be apt for me to cook a relatively healthier dessert. I love Pumpkin in every form. I use it to make flatbread, pasta sauce, Indian curries etc. Today however, I've made a Pumpkin Kheer. Kheer is an Indian pudding made by boiling down milk mixed with rice and sugar. It is everyone's favourite dessert. I have yet to come across someone who can say no a bowl of chilled kheer (although I personally like it hot).
To put this dessert together, I swapped rice with grated Pumpkin, regular milk with Coconut milk and white Sugar with Jaggery. The combination if these ingredients together is pure magic. Winters have set in here already, and a hot bowl of this Pumpkin Kheer is all we needed to feel warm and cozy.
If you are a healthy eater, this recipe is a must try. It is vegan, glutenfree, refined sugar free and extremely delicious. To make this I added a teaspoon of Coconut Oil to a heavy bottom pan along with few pods of Cardamom and heat it on a low flame. Once the cardamom releases its sweet aroma, add the grated pumpkin. Sautee, cover the pan with a lid and leave it to cook for a few minutes. Once the Pumpkin is soft, remove the lid and continue to sautee until all the water from the Pumpkin evaporates. Now add luscious thick Coconut Milk, Jaggery and the best quality Saffron from the stash you've been saving for special occasions. Continue to stir on a low flame for a few minutes until everything bubbles and comes together. Add a few chopped nuts if you'd like. You can eat this piping hot or chill it in the refrigerator for a few hours. Either way, this addictively delicious Kheer will have your heart and you would be making it over and over.

If you make this Vegan Pumpkin Kheer on Diwali in your kitchen, do share a picture on Instagram and tag me @supaintsonplates #supaintsonplates. Happy Celebrations!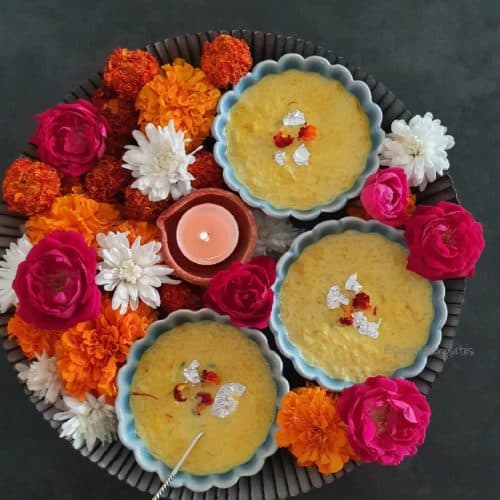 Vegan Pumpkin Kheer
Vegan, Gluten free & Refined Sugar free. This Pumpkin Kheer is indulgent and healthy. Making it a perfect choice this Diwali.
Ingredients
250

gms

Pumpkin

2

Cups

Thick Coconut Milk

5-6

Cardamom Pods

Jaggery Powder

to taste

1

tsp

Coconut Oil

1

tbsp

Pistachio

chopped

Few strands of Saffron
Instructions
Add Coconut Oil to a heavy bottom pan

Add Cardamom and sautee for a minute on low heat until it releases its aroma

Sautee the Pumpkin, cover and cook for 4-5 minutes until soft

Remove the lid and continue to cook until all the water from the Pumpkin evaporates

Add the Coconut Milk and bring to a gentle simmer

Add Saffron and Jaggery and cook for a few minutes until the Kheer is thick and the ingredients come together

You can serve this hot or refrigerate it and eat it in a few hours once it chills