If you are a healthy eater and love Desserts, this Raw Tart recipe is custom made for you. Made with nourishing superfoods, this Raw Tart is Vegan, Glutenfree, Refined Sugarfree and so delicious that you would happily swap your favourite desserts with this.
The crust is made with meaty Medjool Dates, Oats, Flaxseeds, Chia Seeds, Walnuts and Dessicated Coconut. I pulse all these ingredients in the blender and line the tart mould evenly with this filling. I leave this in the refrigerator to set while I make the filling. To make the simplest silky filling, I add soaked Cashews, melted Dark Chocolate, Coconut Cream and some Pure Maple Syrup in a food processor and blend to a very fine consistency.Once the filling is ready, I fill the refrigerated tart base with this filling and leave it in the freezer for a few hours.
I then demold the Tart and serve it on a plate topped with fruits or any toppings of my choice.
I hope you make this recipe and enjoy it with your loved ones!
Merry Christmas & Happy Holidays!!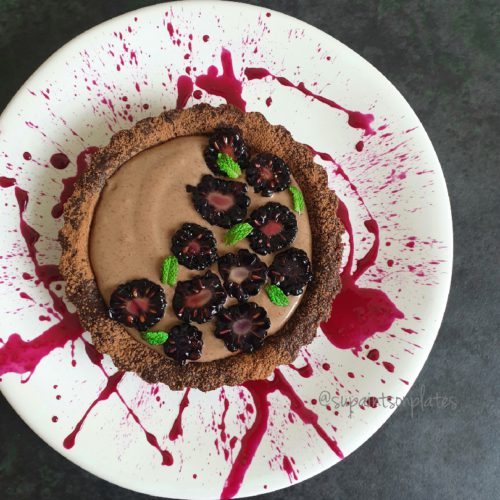 RAW TART
A Raw Vegan Glutenfree Tart to satiate your sugar cravings. Nourishing and delicious.
Ingredients
FOR THE BASE:

1

tbsp

Flaxseeds

1

tbsp

Chia Seeds

2

tbsp

Rolled Oats

3

tbsp

Walnuts

3

tbsp

Dessicated Coconut

1/4

Cup

Medjool Dates

pitted

FOR THE FILLING

1

Cup

Cashews

soaked overnight

1/2

Cup

Dark Chocolate

melted

1

tbsp

Coconut Cream

1

ttbsp

Maple Syrup

Pinch of Salt
Instructions
TO MAKE THE TART BASE
Add the Flaxseed, Walnuts, Oats and Chia Seeds to the blender to make a coarse powder

Add the Dates to a food processor and pulse until you have a coarse dense paste

Now add the powder to the Date paste along with the dessicated Coconut to the food processor and pulse until everything is evenly mixed

Brush the tart mould with coconut oil

Transfer this mix to the Tart mould and spread evenly and refrigerate
TO MAKE THE TART FILLING
Add the Cashews, melted Dark Chocolate, Maple Syrup, Salt and Coconut Cream to a power blender and blend to a very fine consistency

Fill the refrigerated Tart base with this mixture and freeze for 3-4 hours

Demould the tart and top with your favourite toppings before serving