The way you cook food has a way of coming full circle. A lot of my recipes are adaptations of what my mother and grandmother used to cook. One of the reasons is that my mother had this magical knack to use different ingredients even in simple everyday meals just so we didn't get bored of eating the same old dishes.
I now follow the same path. As a result, my kitchen has become a wondrous place of experiments where you'll find me cooking everything from Beetroot Sambar to Cucumber and Coconut Curry. This deeply spiced yet delicately flavoured Raw Banana Kofta is just the latest addition to my smorgasbord.
About Raw Banana: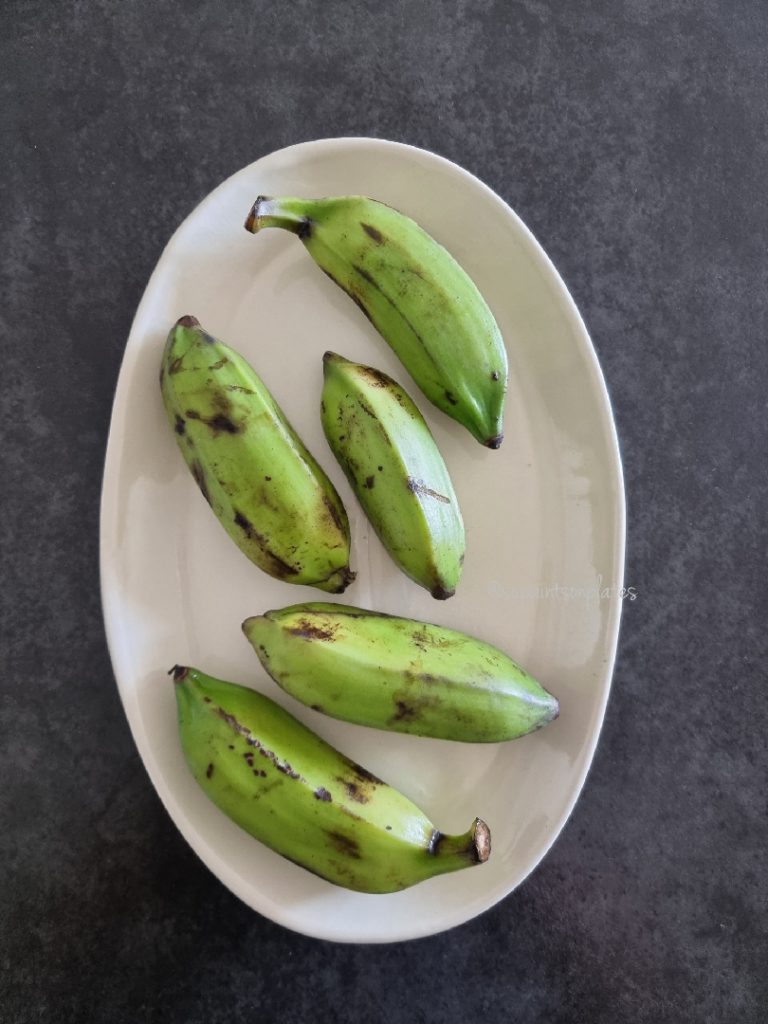 Raw Bananas are extremely high in resistant statch, rich in vitamins, minerals and fibre. They have low glycemic index are a miraculous in regulating blood sugar and help with diabetes.
Raw Bananas are an ingredient my mother commonly incorporated in her cooking. Cooked, the starchy fruit tastes quite like Tapioca or Taro root and is splendidly healthy. With high Iron, Potassium, Manganese, Vitamin C and B6, Raw Bananas are a great way to include a plenty of nutrients with just one dish.
As a working woman, my mother preferred recipes that offered the most bang for the buck. And Raw Banana Koftas fit the bill perfectly. My recipe is a modified version of hers. While she relied on a blend of spices to make the hot, gingery curry, I make it with Yoghurt to impart a delicious tang. Not to mention my curry is made with minimal ingredients and requires little prep work.
How to make Raw Banana Kofta: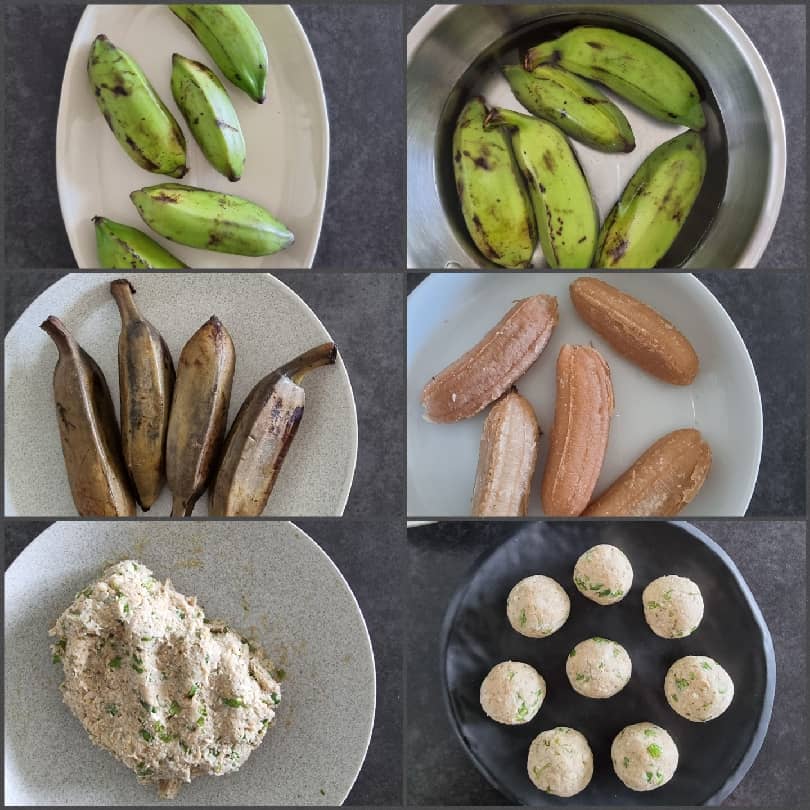 To make the Raw Banana Kofta, boil Green Bananas until they are soft – about 15 to 20 minutes. Once they cool, peel off the skin and grate the flesh.
In a mixing bowl, combine the Banana and Paneer with Ginger, chopped Chillies, and a handful of Coriander. Sprinkle Salt and Black Pepper to taste and add a little Besan (Chickpea flour) to help bind everything together.
Mix all the ingredients well and form balls. Roll them in all-purpose flour till each is completely coated. You can now either bake them or fry them:
Brush each kofta with mustard oil and bake for 8 to 10 minutes.
An equally healthy alternative is to air-fry or use an appe pan for cooking them.
Or you can deep fry them.
How to make the Yogurt Curry: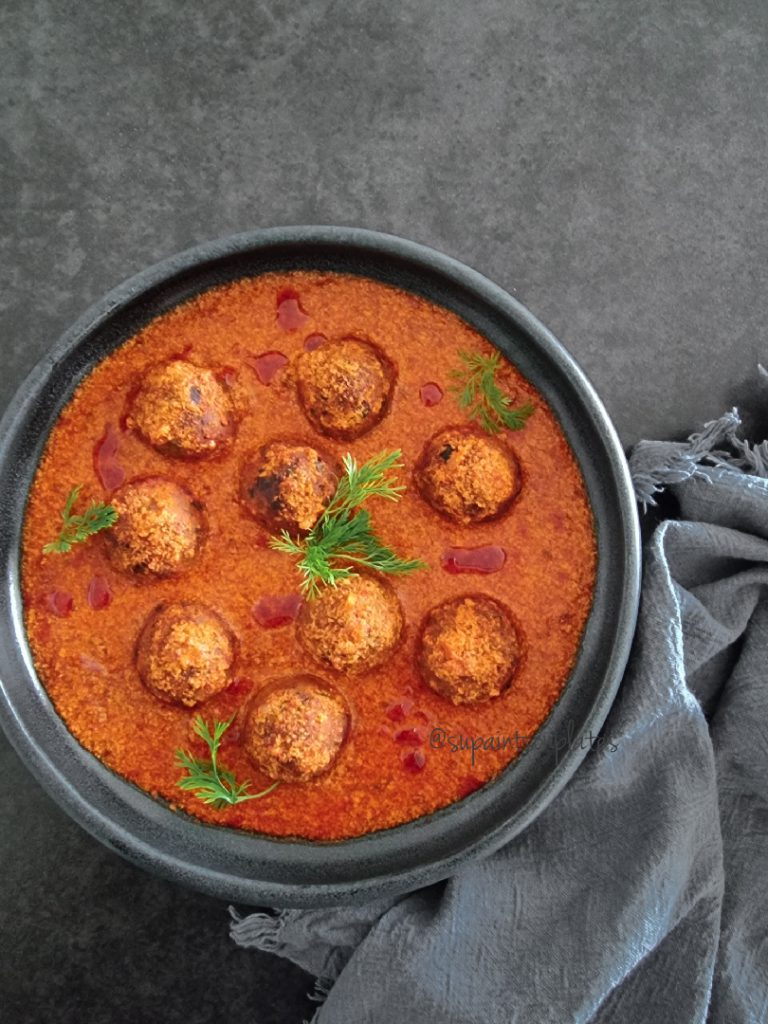 Choose a heavy bottom pan and heat Mustard Oil in it. Cook a few Cloves, a stick of Cinnamon, and a couple of Cardamom pods till the spices become aromatic.
When the oil turns hot, add Cumin (jeera) and Asafoetida (hing). Pour in a paste of Ginger and Garlic along with chopped Onion as the Cumin begins to pop and sizzle.
Sauté for a few minutes on low flame until the Onion browns. Then add Coriander Powder and Kashmiri Mirch and sauté again for a couple of seconds. Add Water and then cook till you see the spices coming together.
The Kashmiri Chillies lend the gravy a beautiful red colour and a slight dose of heat. To mellow it down and give the gravy a rich creaminess and some much-needed body, I whisk in Yoghurt. Keep the heat low and continue to stir the Yoghurt with a wire whisk. This ensures that it doesn't split.
Finish the gravy with a touch of Salt and Garam Masala. Then gently slide in the Koftas, cover and let it cook on low flame. In 5 to 6 minutes, the dish is ready to be served.
Serving Raw Banana Kofta: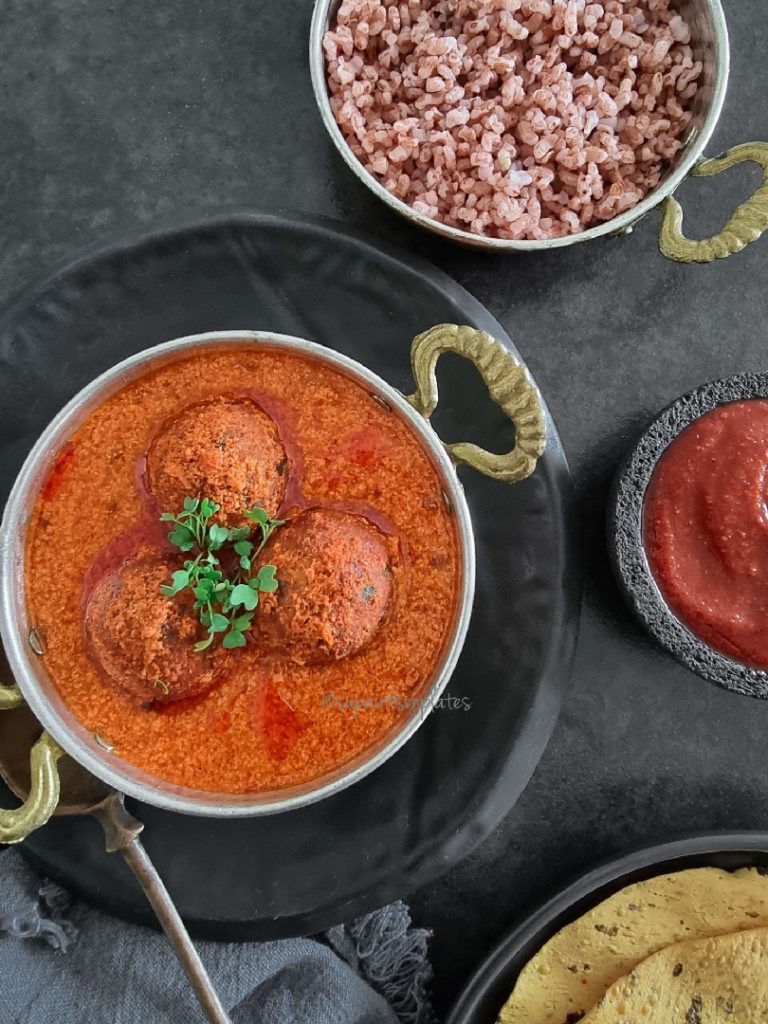 Every household has the age-old belly ache – why does the dinner table have the same thing again? Variety is what we crave when it comes to food. Yet, most of us think it is impossible to cook something new every day. It is not.
As someone who has called Dehradun, Dubai, Pune, Boston, Hyderabad and Maldives home, I now have an assortment of food from various cuisines that can grace my table. And most of it can be cooked surprisingly quickly.
All it takes is looking at the same old ingredients from a new perspective. This recipe does exactly that. It takes a habitually overlooked ingredient (unless served as chips or kebab) and transforms it into a delicious, finger-licking main course dish.
Serve the rich Raw Banana Kofta with piping hot gravy with Roti or as a side to fluffy, fragrant Rice, and you'll have a full meal.
Do make this incredibly delicious recipe and don't forget to tag me @supaintsonplates #supaintsonplates on Instagram. I would love to hear from you.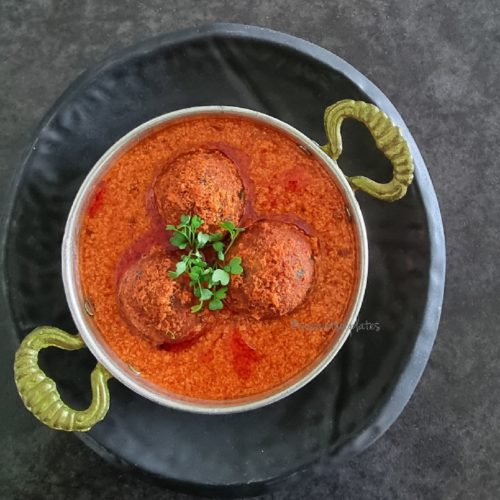 RAW BANANA KOFTA
A unique Kofta made with Raw Bananas. Simmered in a spicy tangy Yogurt Curry.
Ingredients
RAW BANANA KOFTA:
4

Raw Bananas

1/2

Cup

Paneer

grated

2

tbsp

Besan

2

Green Chillies

finely chopped

2

tbsp

fresh Coriander

finely chopped

1/4

tsp

Black Pepper Powder

1

tbsp

Mustard Oil

2

tsp

chopped Ginger

Salt

to taste
1

tbsp

Mustard Oil

1

Onion

chopped

1/4

tsp

Asafoetida

1

tbsp

Kashmiri Mirch

2

tsp

Ginger Garlic Paste

2

Cups

thick Yogurt

1/4

tsp

Garam Masala

1/4

tsp

Cumin

1

stick

Cinnamon

3-4

Cardamom Pods

3-4

Cloves

1

tsp

Coriander Powder

Salt

to taste
Instructions
Boil the BananaBananas in water for 15-20 minutes or until soft

Cool the Bananas and peel off the skin

Grate the boiled Banana and Paneer and transfer to a mixing bowl

Add Besan, chopped Green Chillies, chopped Ginger, chopped Coriander, Black Pepper and Salt

Mix well and roll into lemon size balls

Brush the rolled Koftas with Oil and bake in the oven (175C) or airfryer for 10-12 minutes

Alternatively you could also make the Kofta in an Appe Pan or deep fry them too
YOGURT CURRY:
Add Oil to a heavy bottom pan

Add Cloves, Cinnamon and Cardamom pods and cook until you smell the aroma

Once hot add Asafoetida and Cumin

Once the Cumin Crackles, add Onion and Ginger Garlic Paste and sautee on low heat until brown

Add Coriander Powder and Red Chilli Powder and sautee for a few seconds

Now add a couple tablespoons of water and cook on slow until the spices come together

Whisk the Yogurt with a wire whisk and add to the pan. Cook on very slow and continue to stir so that the Yogurt would not split

Add Salt and Garam Masala and add the Kofta to the gravy

Cover and cook on a low heat for 5-6 minutes