We walked hand in hand in the snow. Newly married, my first time away from home in foreign land and in extreme cold. I couldn't get enough of the snow. Powdery soft and magical. We walked for a few miles until we got too cold and the hundered layers of winter thermals ceased to keep us warm. Shivering we entered a small bistro and all I could think of was a hot bowl of soup. That was the first time I ate pumpkin soup.
It was deliciously flavoured with sage and was topped with caramelized garlic and a generous helping of olive oil. Sheer deliciousness. We shared the bowl, dunked some freshly baked bread, chatted, laughed, looked out of the window at how beautiful Boston was. This is my favourite soup memory. I still close my eyes and find myself sitting in that tiny cafe and thinking about how life would pan out for us. And here I am 17 years later whipping up a bowl of Pumpkin Soup in my kitchen for my sweetheart. Life has been beautiful!
INGREDIENTS: My Pumpkin Soup has all the familiar flavours of home. It is one of those recipes that come together effortlessly. The deep intense flavour comes from the caramelized Onions, Garlic, and Pumpkin that I slowly roast on the stovetop. Turmeric gives the Soup a delicious earthy flavour and the homemade broth gives it depth of flavour. I wanted to create a recipe that does not use an oven, therefore I caramelize the pumpkin in the pot. The lovely char of slow cooking the Pumpkin in Olive Oil gives a deliciously addictive sweetness to this one recipe.
HOW TO MAKE: The process of making this Pumpkin Soup is simple. Onions and garlic are cooked until they are brown and crisp. In a heavy bottom skillet Pumpkin cubes are tossed in Olive Oil and gently cooked until they are cooked from the inside and caramelized from the outside. You can also toss the cubed Pumpkin in Olive Oil and bake it in a preheated oven at 150 degrees for 25-30 minutes. I add in the browned Garlic and Onions and homemade vegetable stock to the caramelized Pumpkin and let the soup simmer gently until the Pumpkin falls apart. At this point I remove this from the stove. I sometimes refrigerate it and blitz it the next day, or let it cool for couple hours and blend it to a silky concoction. Transfer it back to the pot. Let it cook and simmer gently again. Just before serving I add a generous helping of coconut cream, mix the soup well and simmer for a couple minutes.
HOW TO SERVE: Transfer the Pumpkin Soup to serving bowls and serve with a generous drizzle of Olive Oil, cracked black pepper, caramelized Onions, some coconut cream and toasted Pumpkin Seeds. You can also top the soup with some croutons to make it more filling.
HOW TO EAT: This soup makes for an excellent dinner choice. Pair it with some toasted Sourdough and a bowl of Salad. You can also pair it with some grilled Chicken or Tofu for a low carb option.
Do tag me @supaintsonplates #supaintsonplates on Instagram if you try this delicious hug in a bowl. I would love to hear from you.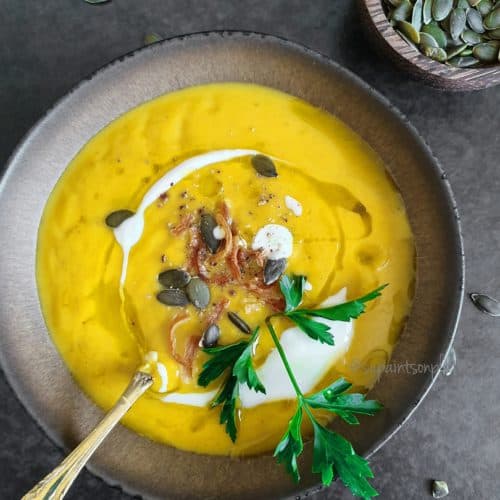 Pumpkin & Turmeric Soup
A luxurious Pumpkin, Turmeric & Caramelized Onion Soup.
Ingredients
1

Large

Onion Sliced

2

Cups

Pumpkin

cubed

3

tbsp

Coconut Cream

3-4

Cloves

Garlic

1

tbsp

Turmeric

2

bay leaves

Salt

To taste

Black Pepper

To taste

3

Cups

Vegetable Stock

1

tbsp

Roasted Pumpkin Seeds

2.5

tbsp

Olive Oil
Instructions
Heat pan. Add 1 tbsp Olive Oil, Onions and Garlic

Cook on a low flame until caramelized and crisp

Transfer to a bowl and set aside to use later

Add 1 tbsp Olive Oil to a heavy bottom skillet and add the Pumpkin cubes

Cook on a low flame for 15-20 minutes until the Pumpkin is soft from inside and caramelized from outside

Now add salt, turmeric, vegetable stock, bay leaves and the browned onions and garlic to the caramelized Pumpkin

Cover and simmer for 30-35 minutes on low heat

Remove from the stove, let it cool. Remove the bay leaves, transfer the Soup to the food processor and blend to a fine consistency

Transfer the Sou back to the pot and simmer the for 5-6 minutes

Add coconut cream, mix well and simmer for couple more minutes

Transfer to serving bowls, top with the caramelized onions, pumpkin seeds, a dash of coconut milk, cracked black pepper and cilantro sprigs.