Labneh is a thick, creamy and mildly tangy strained yogurt cheese. I am in love with it, completely smitten by it's smooth velvety texture. I love how many different flavours one can add to Labneh to create the most delicious dips to accompany crackers, salads, kebabs etc.
I had not known of Labneh until I moved to the UAE. I was familiar with the more popular dips like Hummus and Baba Ganoush however had never heard of Labneh before. I vividly remember getting my first taste of Labneh at a local cafe in Abu Dhabi. A bowl of the thickest, creamiest yogurt seasoned with salt and garlic and topped with the most delicious and fruity Olive Oil. Quite honestly, I was mesmerized. I couldn't get enough of it.
The very next morning, I was at the supermarket buying boxes of plain Labneh. I was delighted that readymade Labneh was readily available and I did not have to go through the trouble of straining yogurt and waiting for hours to devour the creamy goodness. All I had to do was to transfer the Labneh from the container to a mixing bowl, add any flavour of my choice and I had my very own custom made Labneh, ready in minutes. And trust me, I really did go crazy adding all kinds of flavours to the labneh. I made them savoury and sweet and even tried one with herbs.
I hope by now I have convinced you that that my intense love for Labneh is for real. Over the coming months, you will find many many versions of this dip on my Blog including a very special one I ate in Turkey.
This Herb Labneh recipe that I'm sharing today is one that I've made over and over. It is one of my favourite recipes and has also been featured by Khaleej Times and Architectural Digest.
Since Labneh is not easily available in every city. I've also included my simple recipe of making it from scratch with yogurt. To make my Herb Labneh I leave the yogurt in the strainer overnight in the refrigerator. Next morning once the whey has separated from the yogurt and we are left with thick cheese, we are ready to add the flavours. I give the strained yogurt a good mix, add fresh mint, garlic and olive oil. At this point you can add any other herbs of your choice.I transfer this Labneh to a serving dish. Top with zattar, sumac, more herbs, nuts/ seeds and a generous drizzle of extra virgin olive oil. Refrigerate this for an hour if you can. This helps the flavours to seep in and also in my opinion Labneh tastes best when served chilled. Enjoy!
If you happen to try this recipe, do tag me on Instagram @supaintsonplates #supaintsonplates .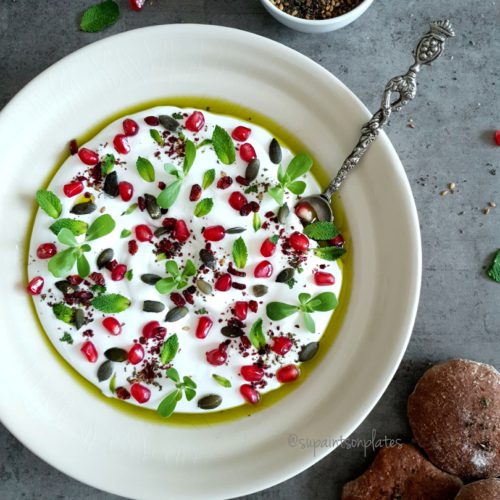 Labneh With Herbs
My version of delicious Middle Eastern Yogurt Cheese made with fresh herbs.
Ingredients
350

gms

Yogurt/Curd

2-3

Cloves

Garlic

Finely grated

Pruslane

Handful

Fresh Mint

Handful

½

tbsp

Zattar

½

tbsp

Sumac

1

tbsp

Pumpkin Seeds

1

tbsp

Pomegranate

2

tbsp

Barberries

Salt

To taste

2

tbsp

Olive Oil
Instructions
Take a large strainer and place on top of a bowl. Add the yogurt to the strainer and leave it in the refrigerator for 5-6 hours or overnight to separate all excess water.

Once you have the thick creamy yogurt, mix gently with a spatula until smooth

Add salt and garlic, 1 tbsp Olive Oil and finely chopped mint. Mix well.

Transfer to a serving dish

Top with pruslane, fresh mint, zattar, sumac, pumpkin seeds, barberries and pomegranate/ or any toppings of your choice.

Drizzle some herb oil/ olive oil on top and enjoy!