This Pink Labneh is an ode to my mother's spirit this October which is "Breast Cancer Awareness Month". To know more about my mother's fight with Breast Cancer, read the story below.
I lay on the pristine beach in the Maldives (my home then), five months pregnant and dreaming of happy things. Next thing I know, I was sitting in utter disbelief in front of a leading oncologists in Mumbai with my very fit mother and the words "stage-3 melanoma" kept echoing in my ears. That very dreaded C word had sneakily crept into our lives and for the next one year our lives were turned upside down. I vividly remember the harrowing experience of being in the hospital amidst thousands of people suffering.. young, old, kids. Everyone's life on hold, everyone not wanting to let go of dear life. I broke down everyday seeing so much pain and suffering.
In that one year I saw my mother who is the strongest woman I know, become what I never imagined she could be. She was frail, weak, in pain, and had lost all of her beautiful waist length hair. However even in her weakest moments she did not lose her love of life and fought extremely hard to beat the disease. It's been nine years now and although my mother still faces several health issues due of multiple surgeries and treatments, she lives life like a warrior.
This Pink Labneh that I made to share my mother's story with you all, is a very special recipe. It is very close to my heart because I especially developed this recipe to dedicate to my beautiful mother and also because it reminds me of the many many learnings and experiences that I personally went through during that difficult time.
To make this dip, the very first thing I do is to leave the yogurt in the strainer overnight in the refrigerator. The next morning once the whey has separated, we are ready to mix the flavours.
I like to use roasted Beetroot instead of raw beetroot for two reasons. One it lends a sweet earthy more mellow flavour to the dish compared to raw beetroot, and secondly it gives a deeper more intense pink colour to the Labneh. I like to leave the Beetroot in the Labneh for some time so the flavour and the colour seeps in. Before serving I strain the Labneh so as to get a smooth, creamy consistency. I like to top this vibrant pink dip with Za'atar, mint, pinenuts and a very generous drizzle of good quality extra virgin Olive Oil. Please feel free to add any toppings of your choice.
If you make this recipe, do tag me on Instagram @supaintsonplates #supaintsonplates.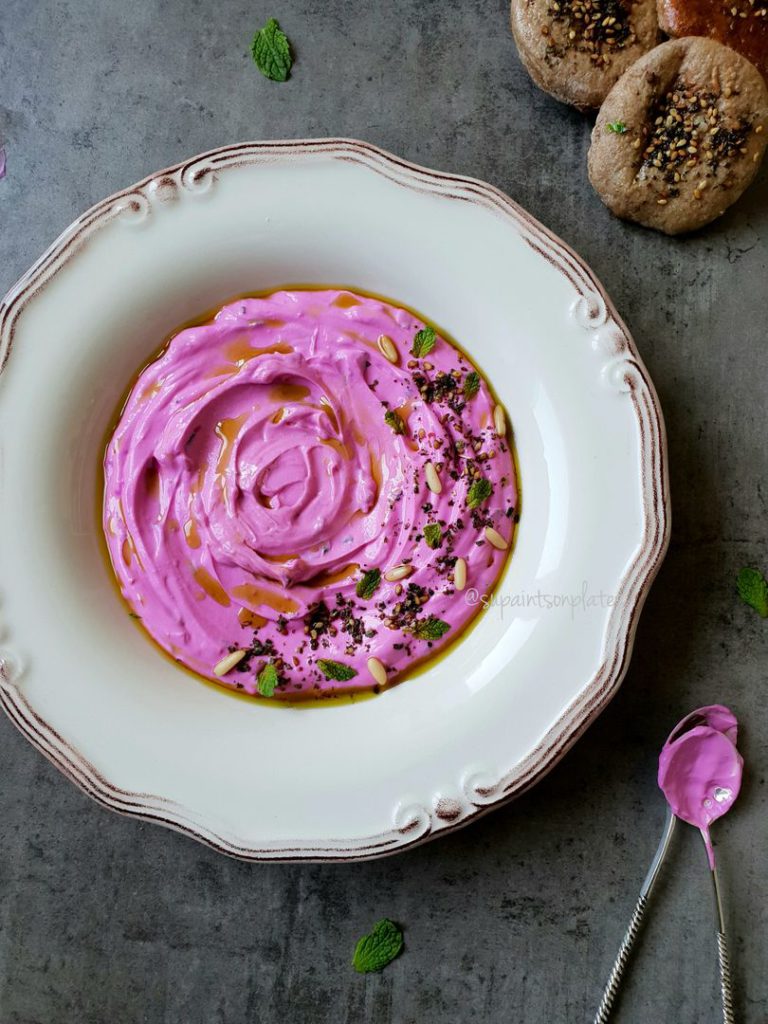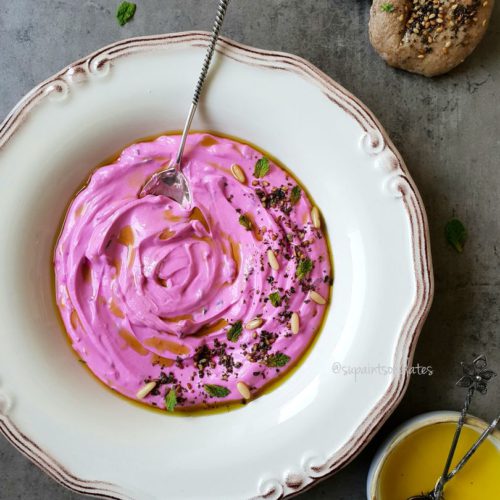 Beetroot Labneh
Pink Labneh made with beets, garlic and mint.
Ingredients
2

Cup

Labneh / Hung Curd

4

Cloves

Garlic

Finely grated

2

tbsp

Pine Nuts

1

Piece

Roasted Beetroot

Salt

To taste

5-6

Leaves

Mint

1

tbsp

Zaatar

2

tbsp

Olive Oil
Instructions
Take a large strainer and place on top of a bowl. Add the yogurt to the strainer and leave it in the refrigerator for 5-6 hours or overnight to separate all excess water.

Once you have the thick creamy yogurt, transfer to a mixing bowl and mix gently with a spatula until smooth

Grate the roasted Beetroot and add to the Labneh

Leave in the refrigerator to chill and the flavours to infuse for few hours

After a couple hours, remove the labneh from the refrigerator

Run this through a sieve and mix well.

Transfer to a serving dish

Top with zaatar, fresh mint and pinenuts (or any toppings of your choice).
Notes
To roast beetroot, wash and clean the beetroot and dry it well with a kitchen towel. Brush it well with olive oil, wrap it in aluminum foil and bake it in a 170 degree oven for 45 minutes or until cooked through. Remove from the oven, peel off the outer skin.