Diwali is round the corner and all I can think of is the plethora of Indian Sweets that we will get to enjoy during this festive season. As you know, I've been away from India for years now and have missed celebrating festivals with my loved ones here. Although there is an Indian community in every country I've lived in, and all festivals are celebrated with much love and enthusiasm there as well, it is still not the same as being here.

Strings of marigolds lining the footpaths, diyas made with clay in intricate designs, sweets and more sweets being sold in every nook and cranny, and not to forget the beautiful colourful clothes in gorgeous fabrics and prints that we have the luxury of buying every Diwali. Ah the joy of celebrating Diwali in India!!

Although Diwali this year will be much toned down due to the current pandemic , however the spirit remains the same. The houses will be adorned with Marigolds and Red Indian Roses, kitchens will smell of Ghee and Cardamom, and we will all be dressed up in our finery welcoming Goddess Lakshmi into our homes. As I do every year, I will make these delicious and extremely nourishing Ladoos loved by all in our home. This hand me down recipe comes from my lovely grandmother who would make jars and jars of these in winters. She would guard them diligently so that they lasted all season. When I decided to make them few years back, I added a few extra ingredients like flaxseed and chia seeds to add more protein to this already healthy recipe. My family loved them so much they became a little Diwali ritual of my own.

To make them I chop the nuts finely so you get tiny chunks of them in every bite. If you'd like, you can powder the nuts for an even texture. I use jaggery to sweeten the ladoos, you can also use dates, date syrup, honey, brown sugar, regular sugar or any sweetener of your choice. What I love about these Ladoos is that they are not overly sweet or heavy and are made with healthy nourishing ingredients. They make for the perfect guilt free yet indulgent treat for Diwali and for the winters that follow.
If you happen to make them, do tag me @supaintsonplates #supaintsonplates on Instagram .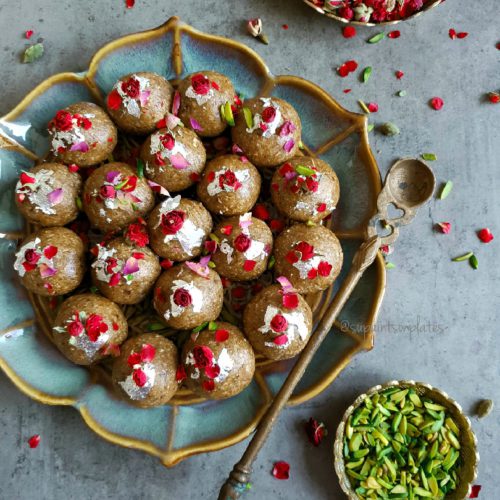 Wholesome Ladoo
Ladoos made with Wholewheat, Flaxseeds and Chiaseeds. Wholesome and nutritious.
Ingredients
1

Cup

Whole Wheat Flour

1

Cup

Chicpea flour / Besan

4

tbsp

Almonds (finely chopped)

4

tbsp

Walnuts (finely chopped)

4

tbsp

Raisins (chopped)

2

tbsp

Pistachio (finely chopped)

4

tbsp

Flaxseed powder

2

tbsp

Chia Seeds (powdered)

3/4

Cup

Ghee

3/4

Cup

Jaggery Powder

1

tsp

Cardamom powder

Few strands of saffron
Instructions
Add chopped Almonds, Walnuts and Pistachio to a pan and dry roast on a low flame until crisp.

To a hot pan, add ghee, whole wheat flour and chic pea flour and cook it on slow flame. Keep stirring it for 15 -20 minutes

Once you smell the nutty aroma of ghee and cooked flour and the colour of the flour turns light brown, transfer to a large mixing bowl and add jaggery, nuts, raisins, cardamom, flaxseed powder, chia powder and saffron.

Once the mixture has cooled a bit, shape them into ladoos. Once completely cooled, store in an airtight container. Enjoy!!