It was a sweltering hot day. My white sleeveless cotton dress clung to me as I sat under the fan next to my grandmother. I hugged her and she continued to push my sweaty face away. This was a game we played each afternoon.
While I sat in my grandmother's verandah endlessly chatting with her, I heard the much awaited sound that was music to my ears… "Tille wali kulfi le lo" (come and buy Kulfi/ ice cream on a thin stick). I started to pester my grandma to buy me an ice cream. She gave in every time, however she quite enjoyed that I gave her innumerable kisses and made cute innocent faces that were hard for her to resist. She would pull out a kerchief from her blouse and unknot it. She always had some petty cash handy to give to the vegetable hawker, milk vendor etc, who ventured all day on the small lane outside her house. Every time the "Kulfi wala" (ice cream man) came she would hand me 25 paisa and my sister and I would bolt outside in sheer excitement.
The Kulfi hawker had a large metal container attached to his bicycle which was filled with crushed ice and thin long aluminum moulds. He would dip the mould in water, gently unmould the Kulfi and hand it to us. The Kulfi was made of pure milk that had been reduced for hours. It tasted of Saffron, Nuts and Roses. Although he sold 3-4 flavors, this Kulfi was my favourite and I had it day after day.
It has been years now. My beloved grandmother is no more and I often go back in time and remember how these small joys that I experienced with her meant the world to me. Even now I can close my eyes and taste the infamous "Tille Wali Kulfi" of my childhood. The slightly coarse nutty milky ice cream melting in my mouth and making summer afternoons at my Grandma's memorable.
We now live in metropolitan cities with the best quality ingredients and ready made Ice Creams and desserts readily available to us. I still make an effort to make Kulfi at home sometimes, so my children can get a taste of my childhood and look back some day and remember these moments and feel the love and warmth of home. Food evokes nostalgia and I hope my boys, wherever in the world they are, will take a bite of Kulfi at an Indian Restaurant or a friends home, and be transported back to their mother's kitchen.
INGREDIENTS FOR VEGAN KULFI: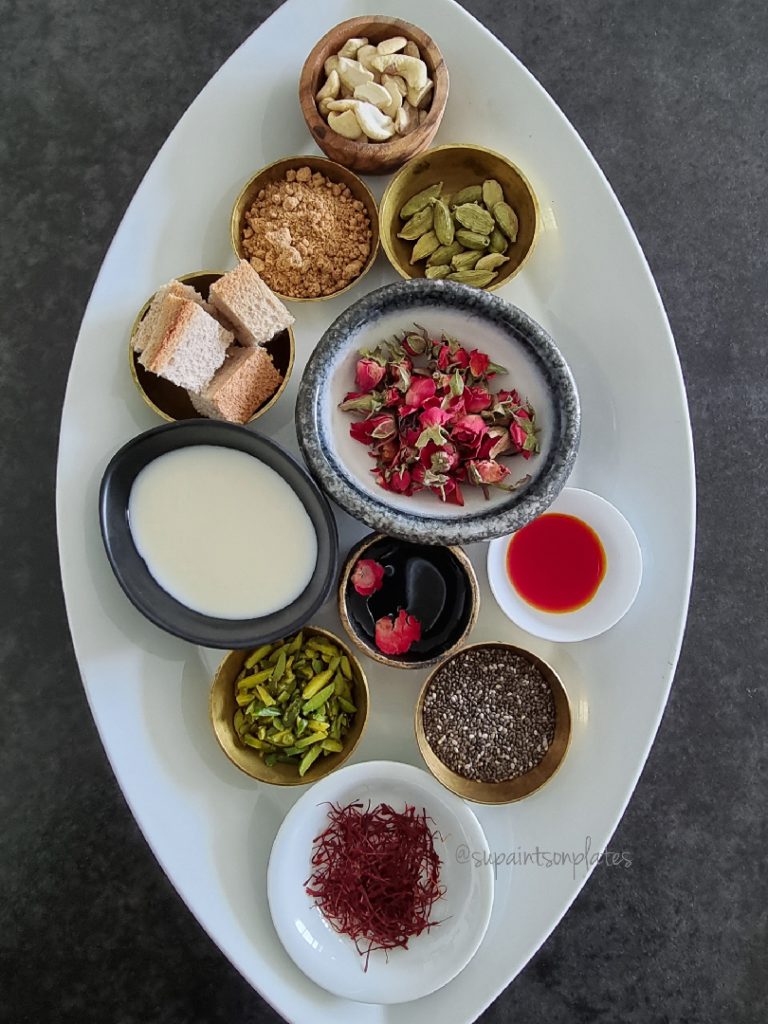 Traditionally Kulfi takes hours to make. Milk is reduced for hours until it becomes really thick. Sugar, Nuts and aromatics like Saffron, Cardamom, Rose Water are added to the reduced milk before freezing.
Staying true to my style of cooking, my Vegan Kulfi Popsicles are a no cook recipe that uses clean ingredients and can be prepared effortlessly. This recipe is so simple that even children can make it.
I have used good quality thick Coconut Milk and mimicked the texture of reduced milk by adding a couple slices of bread. I've also blended soaked Cashews and Pistachios with the Coconut Milk to add a creamy nutty texture to my Vegan Kulfi Popsicles. I have used Jaggery in this recipe, however any sweetener of your choice will work here. To give my Kulfi the distinct taste of my childhood, I've added aromatics like Kashmiri Saffron, pure Rose Water and Green Cardamom Powder. I've also added Chia Seeds to my Kulfi as they make the Kulfi filling enough to be a snack or breakfast.
The result is a Kulfi that may have been made in a blender using clean simple ingredients, however tastes as good as the real deal. Do take my word and give it a try. Good food does not mean slogging away for hours, it simply means being smart and using the correct flavors and techniques to create beautiful food.
HOW TO MAKE VEGAN KULFI:
Soak the Pistachio and Cashews in warm water for an hour.
Add Chia Seeds and Saffron to half of the Coconut milk. Stir well and refrigerate for an hour.
After an hour, add the remaining Coconut Milk, Jaggery, Cardamom Powder, Bread, Cashews and Pistachio to the blender and blend to a fine consistency.
Add this blended mix to the refrigerated Coconut Milk and Chia mixture. Stir well and adjust the sweetness.
Add Rose Water to the mixture, mix well
Pour into Kulfi Moulds and refrigerate for 5-6 hours.
Once ready to eat, dip the Kulfi mould in hot water for a few seconds and unmould the Vegan Kulfi. Enjoy.
SERVING VEGAN KULFI:
My Vegan Kulfi Popsicles are a perfect summer treat. Although you can eat them anytime, my children especially enjoy eating them for breakfast. Vegan Kulfi Popsicles also make for a great post lunch or dinner dessert.
If you make my Vegan Kulfi, do tag me @supaintsonplates #supaintsonplates on Instagram. I would love to hear from you.
MORE POPSICLES ON MY FEED:
Coconut, Chia and Mango Popsicles, Jamun Lassi Popsicles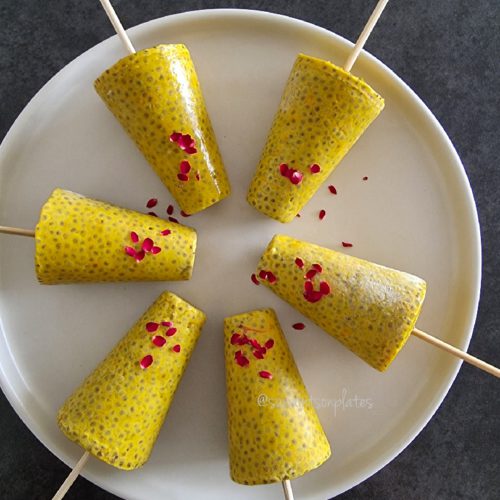 VEGAN KULFI
No Cook Vegan Kulfi made with Nuts, Coconut Milk and Saffron that tastes like the real deal.
Ingredients
10-12

Cashews

1

tbsp

Pistachio

unsalted

1/4

Cup

Chia Seeds

4

Cups

Coconut Milk

1/4

tsp

Saffron

3-4

drops

natural Marigold color

optional

1/4

tsp

Cardamom Powder

2

Slices of

Vegan Bread

1

tbsp

Rose Water

Jaggery

to taste

1

tbsp

Rose Petals

(For Garnish)
Instructions
Soak the Pistachio and Cashews in water for an hour.

Add Chia Seeds and Saffron to half of the Coconut milk. Stir well and refrigerate for an hour.

After an hour, add the remaining Coconut Milk, Jaggery, Cardamom Powder, Bread, Cashews and Pistachio to the blender and blend to a fine consistency.

Add this blended mix to the refrigerated Coconut Milk and Chia mixture. Stir well and adjust the sweetness.

Add Rose Water to the mixture, mix well.

Pour into Kulfi Moulds and refrigerate for 5-6 hours.

Once ready to eat, dip the Kulfi mould in hot water for a few seconds and unmould the Vegan Kulfi Popsicles.

Sprinkle some dried Rose Petals. Enjoy