There are certain traditions we inherit by birth. We grow up celebrating them and they are a part of who we are. And then there are those which we embrace during our journey, and they become so much a part of our being, it's hard to remember a time without them.
I've spent 12 years of my life in the Maldives, Hyderabad and then Dubai. They say if you need to learn about the culture of a place travel there and experience it. We were fortunate that we lived in these places in the midst of some beautiful generous people and got to experiance and celebrate Ramadan and Eid for years.
My heart feels heavy today, as I am away from all my friends. I am however grateful to be with my family. To celebrate this auspicious day I made Sheer Khurma Kulfi today (thickened Milk and Vermicelli Popsicles ). We will devour them while reminiscing good old times and hoping desperately to able to celebrate with friends again very soon.
"Eid Mubarak" to all my friends and family all over the world.
May your homes and hearts be filled with the joyful spirit of Eid! My we all learn to love, respect and be tolerant of each others beliefs. The world needs it!!
Do tag me on Instagram @supaintsonplates #supaintsonplates if you make Sheer Khurma Kulfi. I would be delighted to hear from you.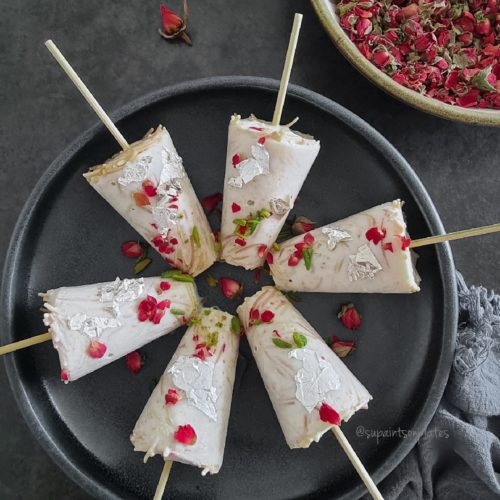 SHEER KHURMA KULFI
A creamy delicious Kulfi made with the traditional Sheer Khurma recipe. Perfect dessert to celebrate Eid with loved ones.
Ingredients
1/4

Cup

Vermicelli

1

tbsp

Pistachio

slivered

1/4

tsp

Cardamom Powder

1/4

Cup

Condensed Milk

(add more if you like it to be more sweet)

1

Cup

Whole Milk

1 Cup

Heavy Cream

3

tbsp

Almond Powder

2

tsp

Rose Water

1

tbsp

dried Rose Petals

1

Silver leaf

(Varak)
Instructions
Add Vermicelli to a skillet and dry roast until medium brown in color

Add Milk, Cream and Almond Powder and boil until it thickens (7-8 minutes)

Add Condensed Milk and boil on a low flame for a couple minutes

Add Cardamom Powder, Rose Water and mix well

Transfer to a bowl and cool.

Transfer to Kulfi moulds and freeze for 6-7 hours.

To serve, dip the Kulfi moulds in warm water for few seconds and unmould. Top with silvered Pistachio, dried Rose Petals and Silver leaf. Enjoy!