When I was younger, whenever any of us were under the weather, my mother would make us a thick delicious Lentil Soup for dinner. Back then we would rather go hungry than eat boring old Khichri, therefore mom made this soup to trick us. She would just blend up good old vegetable Khichri and top it with Garlic fried in Ghee. Her Soup tasted so delicious I still have memories of it fresh in my mind.
Last week I had to get a couple molars removed and had to go on a semi solid diet therefore I thought of making this Mung Dal Soup inspired by my mother's soup. I used few simple ingredients along with toasted aromatic Yellow Lentil and Coconut Cream to achieve a silky, velvety consistency. This Soup is so delicious, sick or not sick, you need to make it right this minute.
We paired this with some French Baguette and Coriander Pesto. A bowl of hearty salad would have been a wonderful accompaniment too.
INGREDIENTS TO MAKE ROASTED MUNG DAL SOUP: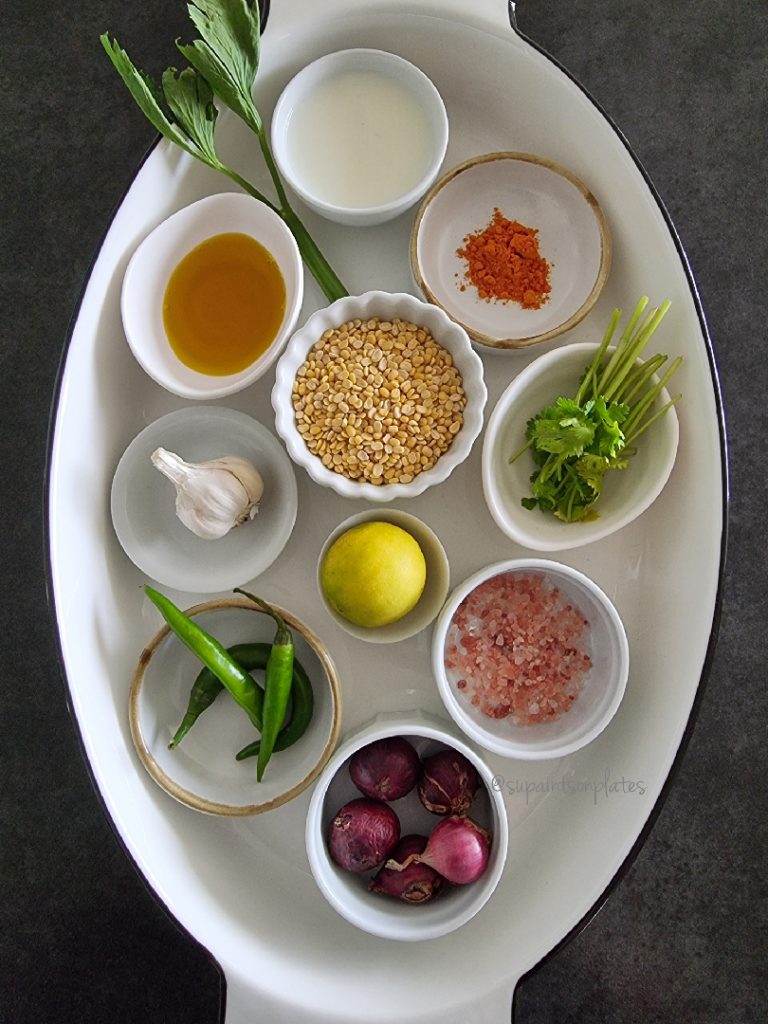 I have roasted the Mung Dal to add a delicious nutty flavor to my soup. Celery, Onions, Green Chillies, Coriander Stems and Turmeric are added to make a flavorful broth that makes my Mung Dal Soup delicious and aromatic. Lastly I add thick Coconut Cream to the Soup to give it a luscious creamy consistency and a dash of Lime Juice adds a slight irresistible tang.
HOW TO MAKE ROASTED MUNG DAL AND COCONUT SOUP: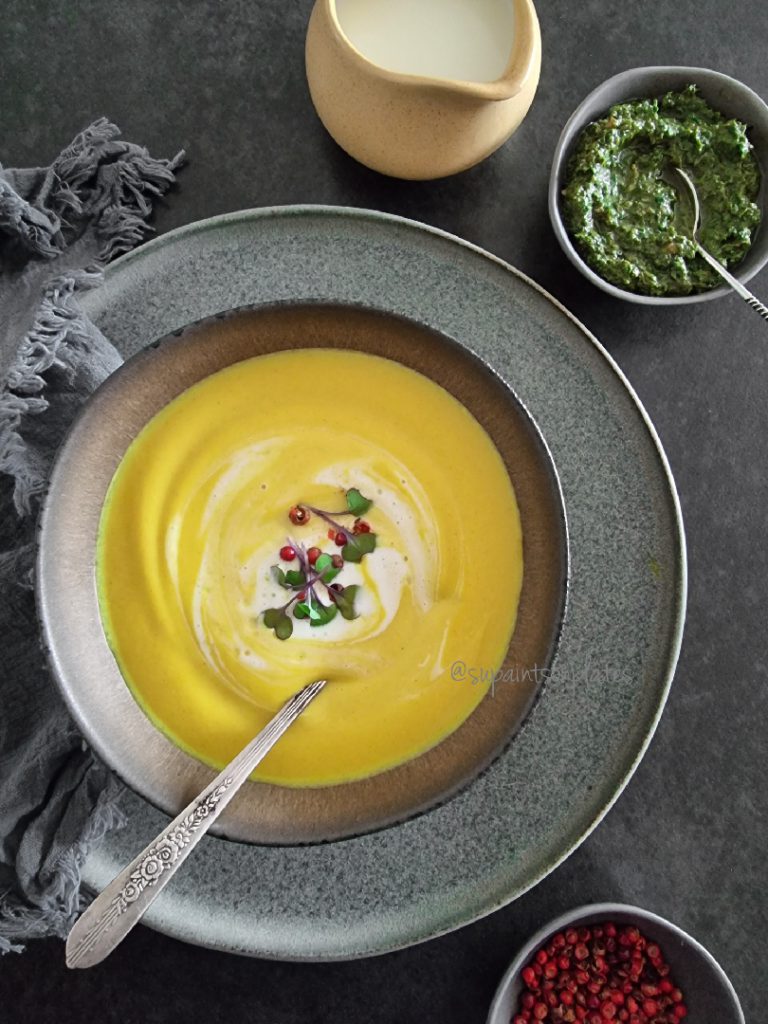 In a cast iron skillet add Mung Dal and dry roast on a low flame for 10-12 minutes until toasty and fragrant.
Transfer to a plate and keep aside.
Add Oil to a pan. Once hot, add Celery, Onion and Garlic and cook until translucent.
Add slit Green Chillies and Turmeric and sautee for few seconds.
Add roasted Mung Dal, Water, Coriander Stems and Salt. Cover and bring to a gentle simmer. Continue to cook for 15-20 minutes until soft.
Blitz the Soup to fine consistency with a hand blender or food processor.
Run the Soup through a seive if you want a smooth velvety consistency.
Transfer the Soup to a sauce pan and bring to a gentle simmer. Add Coconut Cream and mix well.
Add Lemon Juice, mix well and serve hot.
SERVING ROASTED MUNG DAL SOUP:
You can serve Roasted Mung Dal Soup with some French Baguette and Pesto like I have, or you can serve it with a bowl of Green Salad or Quinoa Salad. You can also serve Roasted Mung Dal Soup with some Papadum.
If you make my Roasted Mung Dal Soup, do tag me on Instagram @supaintsonplates #supaintsonplates. I would absolutely love to see your pictures.
Have a wonderful day!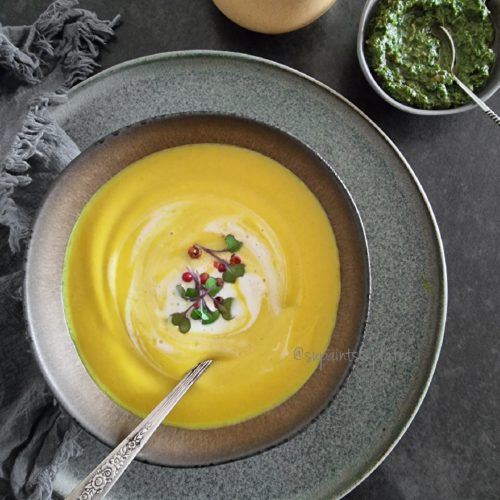 ROASTED MUNG DAL & COCONUT SOUP
This Yellow Mung Lentil and Coconut Soup is silky and delicious. Made with toasted Lentil and few simple ingredients, this recipe comes together quickly yet tastes gourmet.
Ingredients
3/4

Cup

Yellow Mung Dal

1/4

Cup

Celery

chopped

1

Onion

chopped

6-7

Garlic cloves

chopped

Green Chillies

chopped (to taste)

1/4

tsp

Turmeric

10-12

Coriander Stems

3

Cups

Water

Salt

to taste

1

tbsp

Oil

1/2

Cup

Coconut Cream

Juice of 1 Lime
Instructions
To a cast iron skillet add the Mung Dal and sautee on a low flame for 10-12 minutes until toasty and fragrant

Transfer to a plate and keep aside

Add Oil to a pan. Once hot, add Celery, Onion and Garlic and cook until translucent

Add slit Green Chillies and Turmeric and sautee for few seconds

Add roasted Mung Dal, Water and Salt Cover and bring to a gentle simmer. Continue to cook for 15-20 minutes until soft

Blitz the Soup to fine consistency with a hand blender or food processor.

Run the Soup through a seive if you would like a smooth velvety consistency

Transfer the Soup to a sauce pan and bring to a gentle simmer. Add Coconut Cream and mix well.

Add lemon juice, mix well and serve hot