Having lived out of India for several years, I have been intrigued with Maharashtran Cuisine for quite a while after having seen innumerable droolworthy pictures of Missal Pav, Puran Poli, Vada Pav, Poha etc.
Recently when we relocated to Pune from Dubai, I was excited at the thought of finally getting to taste the authentic flavours of this cuisine at its birthplace. Thus began my love affair with Marathi food.
To begin with, I always imagined that this cuisine was spicy, and delicious, in a street food kind of way. Which to be honest it is. The locals love snacking and there is an array of options readily available.
I however was pleasantly surprised when I slowly started to discover, that the real food that is cooked in the homes of locals here, is infact extremely healthy. Although words like Vegan and Glutenfree came to our knowledge quite recently, and are borrowed from West, this cuisine is almost entirely based on these principles. The flatbreads/ bhakri are made with Millets, which of course are grown in nearby farms, making sense that it's part of their menu. There is a variety of vegetarian options that use peanuts, coconut and sesame oil , making them just the most perfect ingredients for a extremely healthy yet flavorful diet.
The more I have delved into the nuances and intricacies of Maharashtran Cuisine, the more intrigued and excited I have been to discover that my 'quinoa' loving mind actually had a change of heart and fell head over heels in love with the simplest yet the most exciting symphony of ingredients and flavours available here.This experience has been eye opening for me.
"Eat Local" should be our mantra, I've heard this many times, however I've have only realised now, how important it is to pay the due respect to Indian Superfoods, grains and ingredients that have been nourishing our mind, body and soul for generations.
I have created this Vegan, Gluten Free Thali using local ingredients and recipes and what a delicious vibrant feast it is. Truly " Food For The Soul".
On the plate from left: Red Chilly Thecha/ Chutney, Sol Kadhi/ Kokum and Coconut Curry (Served Chilled), Mungachi Usal/ Sprouted Mung Bean Curry, Bhareli Vangi /Stuffed Eggplant Curry, Pithla/ Chickpea Flour Curry, Jowar Bhakri/ Millet Flatbread and Rice.
While I will be sharing the recipe for all these dishes individually in the coming months. Please find below one of my favourites from the plate. The yellow colour dish on the thali is called Pithla and is made with chickpea flour/ besan. The recipe comes together quite quickly and is best enjoyed with Bajra Bhakri (millet flatbread). You can also find the recipe of Sol Kadhi, another of my favourites in my blog too.
If you happen to make this, do tag me @supaintsonplates #supaintsonplates on Instagram.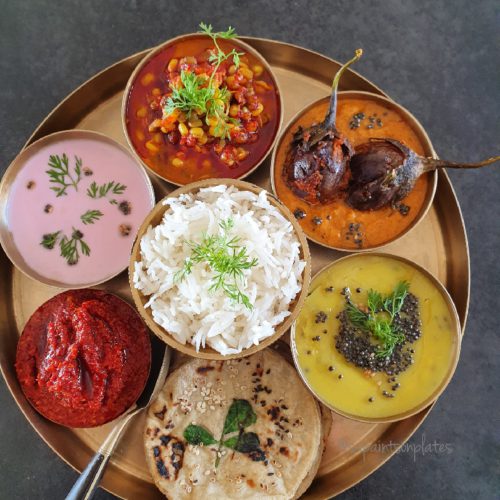 Pithla
A vegan, glutenfree and incredibly healthy Maharashtran dish made with Chicpea flour.
Ingredients
½

tbsp

Cumin Seeds

½

tbsp

Mustard Seeds

¼

tbsp

Asafotida

1

Onion

Chopped

5-6

Cloves

Garlic

Chopped

1

Small

Piece Of Ginger

Chopped

1

Cup

Besan (chic pea flour)

¼

tbsp

Turmeric Powder

½

tbsp

Coriander Powder

1

tbsp

Gingelly Oil / Vegetable Oil

Salt

To taste

Green chillies

Chopped , To taste

4.5

Cups

Hot Water
Instructions
Add asafotida, cumin and mustard seeds.

Once the seeds pop, add chopped onion and sautee for few minutes until light brown.

Now add the green chillies, ginger and garlic. Sautee until light brown.

Add turmeric and coriander powder. Sautee for a minute until fragrant.

Add besan/ chickpea flour and cook for few minutes until its fragrant and the rawness goes.

Remove the skillet from the stove and add salt and the hot water. Continuously whisk the mixture so no lumps are formed.

Now transfer the skillet back to the stove. Let the curry bubble away on a low flame, whisking continuously until the liquid thickens and forms a glossy curry. It should neither be too thick or thin in consistency.

Enjoy with some ghee and Bajra Bhakri.