Missi Roti was a staple breakfast in our home while growing up. All the leftover lentils and vegetables were kneaded into a dough and turned into crisp delicious Flatbreads. These were served along with homemade butter and chilled thick homemade Yogurt. Some days this was also our Sunday lunch.
Although my mother, aunts, everyone made Missi Roti, my grandmother's Missi Roti always stole the show. She was never shy to use ample flavor in her food and that's the reason her food was always bold, zesty and flavorful. Her secret to making the most delicious Missi Rotis was to add Achaar/ Pickle to her Rotis. She would add a heaping spoon of Mango/ Lime/ Green Chilly Pickle to the Missi Roti. This addition was a complete game changer and made her Missi Rotis the talk of the town.
My grandmother also added a generous helping of chopped Red Onions and Green Chillies and these additions are non negotiable for me as well. Once the Rotis were rolled out, my grandmother would pan fry them in a generous helping of Ghee. This made her Missi Rotis flaky, crisp and irresistible. I use very little Ghee in my Missi Roti and cook them on slow to achieve a crisp texture.
I have added chopped Cilantro to my recipe today, however any available greens can be added. Finely chopped Spinach, Fenugreek, Radish leaves, Mustard Greens, all taste brilliant in this recipe. This recipe is so forgiving, you can literally add any leftovers, Greens, Chutneys, Pickles etc to make a new recipe each time.
Although these Missi Rotis taste best with some Yogurt, Butter and Pickle/ Chutney, you can also serve them with Saag, Chana Masala, Paneer etc to make your lunch/dinner extra special.
Do try and let me know your thoughts. You can tag me on Instagram @supaintsonplates #supaintsonplates. I would love to hear from you.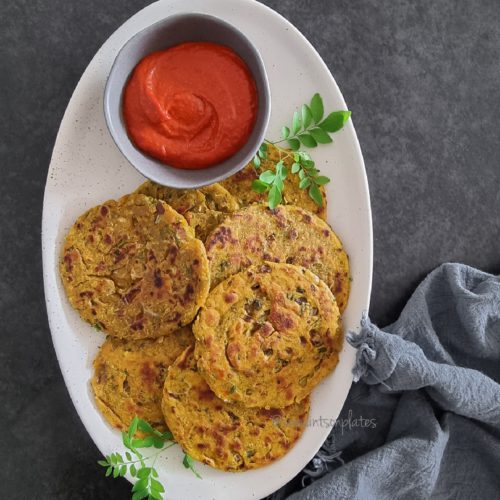 MISSI ROTI
Crisp delicious Flatbread made with leftovers. Best enjoyed as Breakfast with homemade Butter and Yogurt.
Ingredients
1.5

Cup

whole wheat flour

1

tbsp

Besan

1

Onion

finely chopped

Green Chillies

finely chopped (to taste)

2

tsp

Pickle (any Pickle of choice)

Salt to taste

3

tbsp

Coriander

chopped

1/2

tsp

Turmeric

1

Cup

leftover lentils

2

tbsp

Ghee

1

tsp

Ajwain
Instructions
Add all ingredients (except dal) to a mixing bowl

Add the lentil slowly until the dough comes together

With the help of a rolling pin roll out the Flatbread, brush with Ghee, fold and roll out

Cook on a hot griddle with some Ghee or oil

Enjoy hot with some Ghee and pickle