While growing up there were only a couple basic versions of Lassi that we knew about. The sweet one made with homemade yogurt, ice and sugar, and the salty one made with homemade yogurt, black salt, black pepper and ice cubes.
Refrigerators had not hit the market back then, and I vaguely remember a vendor selling large chunks of ice on the streets on his cart. My grandmom would buy some from him during hot summer months.
Since there were also no fancy blenders available that time, my grandmother would transfer all the ingredients to a stainless steel pitcher and whisk them constantly with a wooden whisk for 7-8 minutes until the drink was foamy and lump free. Sometimes she would add some rose syrup (rooh afza) to the Lassi to treat us to a delicious pink drink.
As we grew, our parents bought a refrigerator and a blender and kitchen chores became a lot simpler. However the flavours of Lassi stayed the same. The sweet, the salty and the rose flavoured which was made occasionally.
At the age of 24, I moved to Delhi to work. My sister and I shared an apartment in South ex.
We made new friends and started eating out and learning about new dishes and cuisines. One day a dear friend of mine took us to Bengalis, a famous sweet shop in South Ex. He couldn't stop talking about the Lassi there and I couldn't but help thinking why someone would bother to waste time on drinking such a common basic drink when there were a plethora of delicious choices available.
Anyhow, upon his insistence we ordered the infamous Lassi. It came chilled in a steel glass, thick and sugary with a hint of cardamom. It was intoxicatingly delicious and nothing like the Lassi we made at home. I fell in love. From then on, whenever we visited that small eatery I would order a glass of Lassi for myself, much to the amusement of my sister and my friend.
I got married at the age of twenty six and moved to Boston with my husband. We lived in a cozy studio apartment and I loved looking out at the snow. By the time summer came, I was homesick and craving some authentic Indian food. Our American friends drove us to a Dhaba on the countryside. I was excited like a child. I think everyone ordered every single dish on the menu to give me a taste of home. As we sat waiting for the food, the server got us a yellow drink in a glass and a bowl of papadum. We were hungry and greedily took the drink. One sip of the yellow nectar and I was in awe. It was delicious and tasted of mangoes and cardamom and was slightly tart. It did not taste like the mango milk shake that mom made and I was not sure what I was drinking.
This was my first encounter with Mango Lassi. I was surprised why in India we added fruits to milk to make milk shakes, however never to yogurt to make fruit Lassi. I realised that every Indian restaurant in Boston was making a fortune by selling Mango Lasssi..lol. It was clearly the most popular drink there.
It's been years of travelling all over the world and trying different cuisines and dishes. I look back and remember every experience fondly. I make Lassi now in many flavours, using seasonal fruits. Sometimes I use coconut yogurt to make it vegan. I like to add honey or date syrup to sweeten it , as over the years I learnt to eat wholesome and nourishing ingredients. You will seldom find any white sugar in any of my recipes.
This jamun Lassi is extremely special as it's my husband's favourite fruit and I made this recipe especially for him. He enjoys it immensely.
To make this I whip the yogurt with deseeded jamun /java plum, some thick chilled yogurt and some honey. I leave out the ice as it thins out the Lassi and we do not enjoy that consistency.
I also like to top the Jamun Lassi with some thick good old white Lassi sweetened with honey. The joy of drinking these two together is unparalleled. If you make this recipe in your kitchen, do tag me on Instagram @supaintsonplates #supaintsonplates .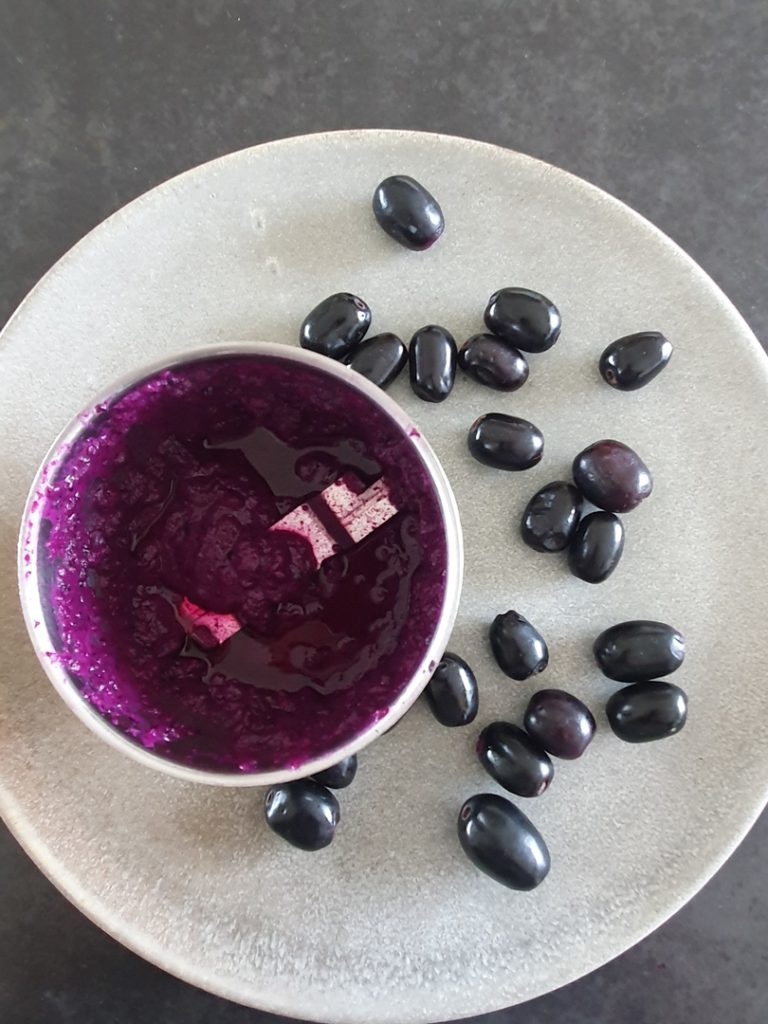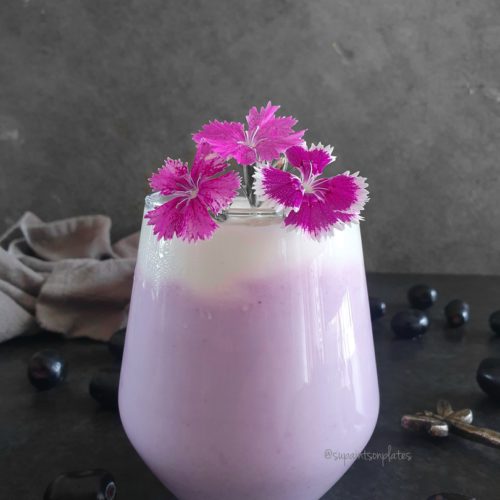 Jamun Lassi
This show stopper Lassi is made with Jamun/Java Plum, Yogurt, and Honey.
Ingredients
12-15

Pieces

Jamun

1.5

Cup

Hung Curd

Chilled

Honey

To taste
Instructions
Add all ingredients to a blender and blend to a creamy consistency.

Add few ice cubes if you would like (I didn't as the yogurt was chilled).