I was terribly homesick. Although I had been living on my own for the last five years, this is the first time I was in foreign land away from my country. The excitement of our wedding and setting up a new home was slowly wearing off. Boston was beautiful, however I had no friends, no job and the weather was harsh. The food was unfamiliar and being vegetarian didn't help. Fortunately I found a Pakistani store close to our apartment and I loved going there. The spices, vegetables, the smells and all the familiar ingredients transported me home.
It was the weekend and my husband and I set out to explore the beautiful city of Boston. I don't remember much as it's been years, however I vividly remember us chancing upon a very tiny eatery packed with people. Inquisitive we entered and saw a display of various salads, sauces and flatbread. The white coloured sauce looked like it was made with cheese and I was disappointed as I don't eat cheese. The server however insisted that I try the food as it was Kosher and Vegan (terms I did not understand back then). Anyway, to cut the story short. This was my first encounter with Hummus. As I bit into the Falafel wrap I was mesmerised. The crisp lentil patty, crunchy tangy pickles, the creamiest Hummus wrapped in a yeasty bread was pure bliss.
We went there very very often post that and loved eating Hummus so much that slowly I started to make my own. It's been sixteen years now, and my undying love for Hummus has coaxed me into creating innumerable Hummus recipes using various unusual flavours and ingredients.
ABOUT HUMMUS:
Hummus is a dip widely eaten in the Middle East. It is made with really simple staple ingredients that are blended together to make a creamy dip. This dip is so versatile it pairs beautifully with meats, pickles, salads, pita bread, Falafel, kebabs etc. Hummus is not just a very delicious dip, it is also quite nutritious. In addition to being high in protein, it is also vegan and glutenfree, making it an ideal choice for healthy eaters.
INGREDIENTS:
As I mentioned, the ingredients used to make Hummus are really simple and easily available. With literally few pantry ingredients, you can whip up a batch of delicious Hummus to wow your guests at a party.
CHICKPEAS: Although you can use canned Chickpeas to make Hummus (and trust me I've done it a few times too when I was pressed for time), however in my dictionary the only way to make really delicious and creamy hummus is if you soak the Chickpeas overnight and boil them in salted water until they are really soft. A thing to note here is to not add baking soda while boiling the Chickpeas as it alters the taste of Hummus. I've seen few people tend to remove the skin of the boiled chickpeas before making Hummus. If you ask me, this is completely unnecessary and infact I feel a lot of flavour and texture comes from the Chickpea skin. Another thing to ensure is that the Chickpeas are not hot while blending. They can be at room temperature or cold from the refrigerator for best results.
AQUAFABA: For the longest time, I would add plenty of olive oil to my hummus to give it the rich creamy consistency that we so love. And then one day I discovered the magic of Aquafaba. Aquafaba is nothing but the water in which we boil the chicpeas. By now we all know how magical this ingredient is. We can make vegan macaroons, mayonnaise and various exotic recipes using Aquafaba. Once I started adding aquafaba to my Hummus, there was no looking back. It yields the silkiest, most deliciously whipped Hummus without using much oil at all.
TAHINA: Tahina is a very fine paste made with sesame seeds. Although you can make your own Tahina at home by roasting and grinding seasme seeds, I strongly advocate the store bought variety. Tahina is very easily available in good supermarkets and online stores. It is nearly impossible to make Tahina of very fine consistency at home as the skin of the seasme seeds is coarse. Therefore if you are looking to make silky smooth Hummus, you definitely need to go the store bought Tahina way.
LEMON JUICE: When I lived in the UAE I realised that the Hummus there is very sour. People there love to add a lot of lemon juice to their Hummus. In the beginning, I found their Hummus too sour for my liking, however slowly I started to get used to it and quite enjoyed the lemony delight. Therefore how much lemon you add to your Hummus totally depends on how sour you would like it to be.
GARLIC: If you are a garlic lover like me please add few cloves of raw garlic to your hummus. The raw garlic gives the Hummus a deep intense flavour. However if you are not a big fan of raw garlic, feel free to rub a head of garlic with olive oil and bake it in the oven for 35-40 minutes. You can use the meat of this roasted garlic to your Hummus to add a more mellow and sweet earthy garlic flavour. Either way your Hummus will taste delightful.
SALT: While it's totally ok to add just regular table salt to your Hummus, if you do have a jar of fancy sea salt which you picked on your travels, this is your opportunity to use it. You can also use flavoured salts to give additional flavour to your Hummus.
OLIVE OIL: Although my recipe does not call for a lot of Olive Oil, I do use about a tablespoon while whipping the Hummus and another tablespoon to top it with. Please ensure that you use the best quality Extra Virgin Olive Oil for this purpose. Since the oil is literally drizzled on top of the Hummus ready to be scooped up with some warm Pita, you really do need a fresh fruity olive oil. If the oil is stale or not of extra virgin quality, it will spoil the taste of the Hummus.
FOOD PROCESSOR: Before I talk about the process of making Hummus, I do want to talk about the actual tool that will help us get the velvety consistency. The blender/ food processor you use to make Hummus is of utmost importance. It should be powerful enough to blend the ingredients to a very fine paste. Therefore I recommend you use a high speed, high power blender for this purpose.
HOW TO MAKE HUMMUS: Now that you are clear about the ingredients that go into making a good quality Hummus, let's talk about the process itself. You need to ensure that the Chickpeas are not hot or warm, they need to be room temperature or cold. Add the chicpeas to the blender jar along with garlic, tahini, salt, lime juice and only half the aquafaba required for this recipe. Blend to a fine consistency. Open the lid, with the help of a spatula, give the hummus a nice mix, add more aquafaba and blend. Repeat this a few times until you have a smooth Hummus. Now add the Olive Oil and give it one last blend. The Olive Oil will emulsify and give the Hummus extra dreamy texture. Now all you need to do is to transfer your Hummus to a lovely flat dish, top with your favourite toppings and some Olive Oil. I suggest you refrigerate this for an hour atleast as Hummus is a cold mezze and never eaten warm or at room temperature.
HOW TO EAT HUMMUS: Hummus is a cold Mezze dish. Essentially that means that it is laid out with a spread of many other side dishes to create a meal. Although you can use Hummus to spread on sandwiches or accompany your salads, the best way to eat Hummus is with kebabs/ falafel, pita and some salad. The hot kebabs, dunked in cold Hummus, wrapped in warm pita along with some crunchy salad taste addictively delicious.
Do try my recipe and don't forget to tag me on Instagram @supaintsonplates #supaintsonplates. I would love to hear your feedback.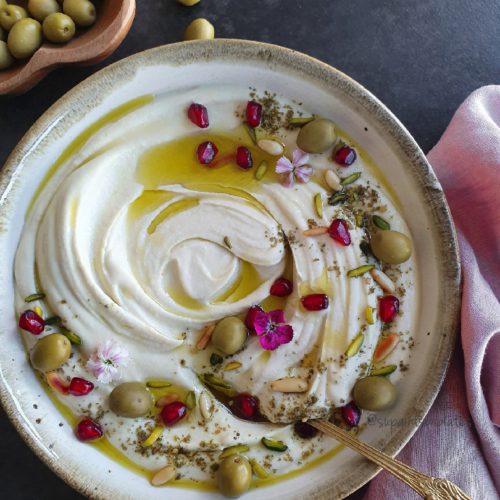 Hummus
My recipe for the silkiest Hummus
Ingredients
1

Cup

raw Chickpeas /or

2

cups

cooked Chickpeas

2

tbsp

Tahina

3

tbsp

lemon juice

1

Cup

Aquafaba

4-5

Cloves

of Garlic

Salt

to taste

2

tbsp

Olive Oil

1

tsp

Zattar

for garnish

1

tsp

slivered Pistachios

for garnish

1

tsp

Pinenuts

for garnish

few Edible Flowers

for garnish

1

tsp

Pomegranate arils

for garnish

Few Olives

for garnish
Instructions
Soak the Chickpeas overnight in water

Next morning, wash the soaked Chickpeas and pressure cook them in salted water until they are soft

Once cooked, transfer the Chicpeas to a bowl and let them cool

Add the Chickpeas, Tahina, Lime juice, salt and half cup Aquafaba to a high speed blender

Blend to a fine consistency

Add more Aquafaba and and keep blending until the hummus looks silky

Add the olive oil and more aquafaba if required

Blend until the hummus is creamy

Transfer to a bowl and top with olives, zattar, pistachios, pinenuts, pomegranate, edible flowers and olive oil . Or any toppings of your choice.

Refrigerate for a few hours. Serve chilled.