It's no mystery that I love soups. Therefore you will find them in all colours on my blog.
This Green Pea Soup happened few years back when I was working with a brand in Dubai who were launching their new range of frozen Green Peas and asked me to develop a recipe for them.
Personally I wasn't a big fan of Green Peas. However much to my delight, I quite enjoy this soup. Initially when I made this recipe, I used rather rich ingredients like deep fried Onions and full fat Milk, which made the soup decadent and delightfully delicious. However over the years I've made this Green Pea Soup over and over and my recipe continued to evolve and get lighter and healthier. I now make this soup using Potatoes, fresh Almond Milk, sauteed Onions, Garlic and Celery. The result is a creamy, light and delicious soup. I would pick this over the richer version any day.
Since it is winter season here in Delhi and farm fresh Green Peas are abundantly available, it is the perfect time to whip up a batch of my Green Pea Soup. My recipe is Vegan, Gluten Free and so delicious you will be making this all winter and having a chilled version of this all summer too!
VEGAN GREEN PEA SOUP INGREDIENTS: I have used very simple regular pantry ingredients to create this recipe. I believe that the art lies not just in the ingredients that you pick, but also how you use them.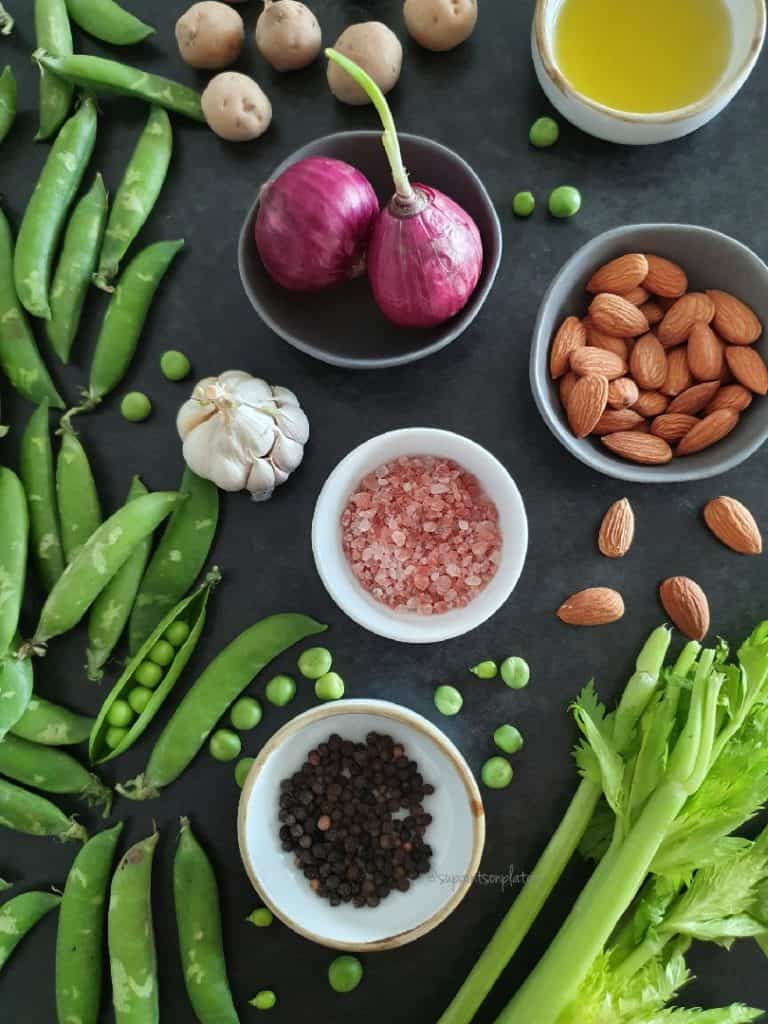 ONION & GARLIC: Onions and Garlic form the base of my Vegan Green Pea Soup. Thinly sliced Onions and Garlic are sauteed in Olive Oil on a low flame. Once cooked slowly the Onions and Garlic caramelise and impart a delicious addictive flavour to the soup.
CELERY: Once the Onions and Garlic are cooked, I add chopped Celery and cook it until it turns translucent. If you ask me, Celery is one of those ingredients that completes most Soups. It gives depth and a delicious Umami flavour to the Soup. In addition to being an incredibly flavourful ingredient, Celery is a superfood loaded with minerals and antioxidants. It supports gut health, aids digestion and its anti-inflammatory compounds offer our body protection against inflammation.
POTATOES: When the Celery turns translucent, I add in the Potatoes. I find Potatoes to be the best natural thickening ingredient. Bye bye to white flour and corn starch. Potatoes give a lovely full bodied texture to my soup. Potatoes are not just a delicious addition, studies have linked Potatoes to a wide variety of health benefits. They are naturally Gluten free, rich in antioxidants and have heart healing properties.
ALMOND MILK: Another extremely nourishing ingredient used in this Vegan Green Pea Soup is Almond Milk. Although any store bought variety of unsweetened Almond Milk would work in this recipe, however I strongly recommend that you make your own. Homemade Almond Milk is ridiculously simple to make and tastes fresh and extremely delicious. It gives a lovely creaminess to the Green Pea Soup without making it heavy. You can find my simple recipe for homemade Almond Milk in the notes section of my recipe. Almonds are packed with Vitamin E, Magnesium and Potassium. They are a bone building superfood that have the same amount of Calcium as Cow's Milk. They are good for our hair and skin and help eliminate hunger cravings.
PINK HIMALAYAN SALT: Since my Green Pea Soup recipe is Vegan and immensely nourishing, I thought it was only apt to swap regular salt with Pink Himalayan Salt. This Salt is made from the rock crystals of Salt mined from the foothills of the Himalayas. It has therefore been called the purest Salt on Earth and has unparalleled health benefits. Being high in minerals and antioxidants, Pink Himalayan Salt regulates blood sugar and hormonal balance. It also aids in digestion and better sleep quality. Reasons good enough to make the switch from regular table salt.
BLACK PEPPER: Although it would be totally legit to spice your soup with Red Chilli flakes or any spicy peppers of your choice, my personal preference would be black pepper. It lends a mildly spicy and sophisticated flavour to this Soup. Black Pepper has been called the "King of Spices" and "Black Gold" because of its innumerable health benefits. It is good for our brain and gut, an age old remedy for cough and cold, has anti cancer and anti ageing properties. It is also probably the most versatile spice that has found a prominent place in almost every Cuisine around the world.
GREEN PEAS: Now let us get to the star ingredient, Green Peas. Green Peas are high in fibre and vitamins, low in fat and contain no Cholesterol. They are a very good source of Vegan Protein. Although you can make this Vegan Green Pea Soup easily with a packet of frozen Peas, I urge you to use the fresh kind if they are in season. The flavour and the colour that fresh Peas impart to this Vegan Green Pea Soup cannot be compared to the frozen kind.
HOW TO MAKE VEGAN GREEN PEA SOUP: The process of making this Soup is quite simple. I like to sautee the Onions and Garlic in Olive Oil until they are golden and crisp. Once the Onions and Garlic have browned, I add some Celery which gives a deep intense flavour the Soup. I now add four cups of Water, and roughly chopped Potatoes and cover and cook the stock on a low flame for an hour until the Potatoes fall apart and the broth smells flavourful. At this point I add in the Green Peas and cook them for a few minutes until soft. A thing to remember here is to not let the Peas lose their vibrant green colour, therefore do not overcook them. Cool this mixture and blitz in the blender with a cup of thick Almond milk. Once this is done, I like to run the Green Pea Soup through a sieve to ensure no small bits are left and the Soup is silky and luxurious. You can now refrigerate the soup and warm it just before serving.
HOW TO SERVE VEGAN GREEN PEA SOUP: If you have refrigerated the Green Pea Soup. Transfer the soup to a skillet, warm it gently and add a little Olive Oil and some Almond Milk to loosen it. Once hot, transfer the Soup to serving bowls, top with a dash of thick Almond Milk, fresh herbs or any toppings of your choice.
HOW TO EAT VEGAN GREEN PEA SOUP: While this Soup is hearty and a meal in itself. It pairs beautifully with a side of grilled Chicken, Fish or Tofu. My boys enjoy eating it most alongside a simple Aglio e Olio pasta. I personally love pairing it with a bowl of Quinoa salad.
It has been a couple years since I created this recipe and I've made this over and over for my family and myself. I hope you will cook this in your kitchen too and enjoy it with your loved ones. Do tag me @supaintsonplates #supaintsonplates on Instagram if you do. I would love to hear from you.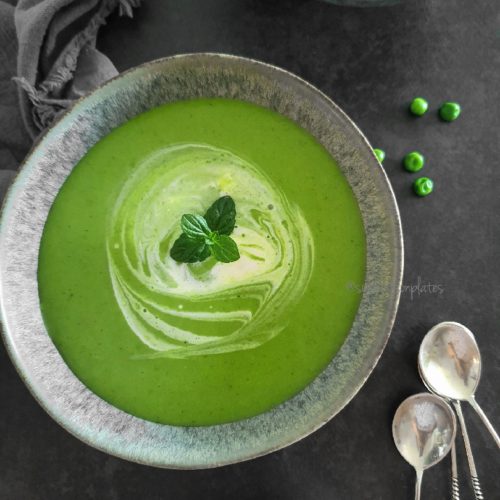 Vegan Green Pea Soup
This Vegan Green Pea Soup is the perfect winter evening treat. Silky, luxurious and delicious. It will be hard to believe this Soup is good for you.
Ingredients
3/4

Cup

Green Peas

2

Medium size Potatoes

roughly chopped

8-10

Garlic Cloves

chopped

2

Celery Stalks

chopped

1

Onion

sliced

1.5

Cup

Thick Almond Milk

homemade

Salt

To taste

Black Pepper

to taste

2

tbsp

Olive Oil

4

Cups

Water
Instructions
Heat Olive Oil in a skillet

Add chopped garlic and onions and sautee on a low flame until light brown

Add celery and sautee until translucent

Add four Cups of Water and roughly chopped potatoes. Cover and simmer gently for an hour.

Add the Green Peas and cook for 6-7 minutes until the Peas are just cooked.

Remove from the stove and cool

Once Cooled, add this to the blender with 1 Cup of thick Almond Milk, Salt and Black Pepper to taste. Save the remaining Almond Milk to use later to thin the soup and to use as topping.

Strain the soup to remove any small bits

Transfer the strained soup back to a pot and simmer gently. If needed, add more Almond Milk to adjust the thickness of the soup

Serve in Soup bowls. Top with some Almond Milk, fresh Herbs and cracked Black Pepper.
Notes
To make 1.5 Cups of thick Almond Milk, soak 20-25 Almonds in water for a couple hours. Remove the skin of the Almonds. Add the almonds along with 1.5 Cups of room temperature water to a high speed blender. Blend to a fine consistency. Strain and store in the refrigerator.