My love for fresh vegetables is true and eternal. For this I give complete credit to my parents and to the beautiful city I grew up in. When I was growing up, my home town Dehra Dun was known for its scenic beauty, for its Litchi and Mango Orchards and for its peace and tranquility. Of course urbanization has caused havoc and the city is nothing like where we grew up anymore.

Our home had a Litchi, Guava, Wood Apple and Mango tree. Farm fresh vegetables were available in abundance. My father who loves gardening continues to grow organic vegetables in his garden until today. When my parents moved to their new villa near the mountains few years back, I decided to pay them a visit. To my disbelief, not just the backyard, my father had turned half of the front yard into his vegetable garden too, leaving only a little space in the lawn for us to sit and soak the winter sun..lol. Therefore you can imagine, coming from a family who are so intensely passionate about growing and consuming vegetables, the apple didn't fall far from the tree.

One vegetable though that I didn't care much about was Green Peas. My mother always added them to Rice and Vegetables and I never enjoyed their mushy texture. Until one day when we went for a family picnic to Dhanaulti, a hill station near our home town. The place was stunning beyond belief, pristine and untouched. Rhododendron, Pine and Eucalyptus trees grew everywhere. The mountain air was crisp and smelled of Pinesap that lingered like a cloud of sweet perfume. On our way home from the picnic, we stopped at a local farm where my mother bought some Potatoes, Peas and herbs (the only vegetables growing there then). Next day my mom made us a Cumin spiced Indian stir fry with the Peas and Potatoes she'd got from the farm and served it to us with hot Rotis. I think that was the most delicious Green Pea dish I've ever had. The Green Peas were delicate, sweet, juicy and bursting with flavour. I don't remember ever coming across Green Peas that tasted like those ever again.
GREEN PEA HUMMUS: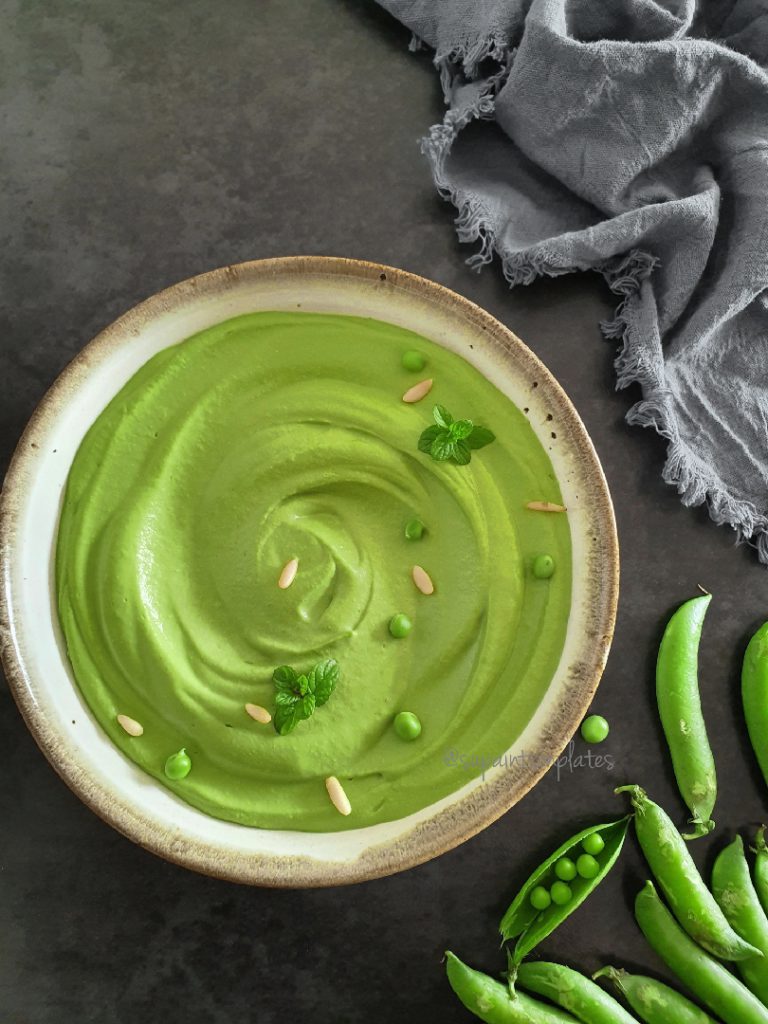 Coming to today's dish, since I love creating different Hummus recipes, I decided to make one using Green Peas. Fresh winter Peas are in season and they taste so much more tender and flavourful than the frozen kind. I'm trying my best to use them in as many recipes as I can. This Green Pea Hummus recipe is tangy, creamy and delicious. If you are not a huge Green Pea lover like me, this Green Pea Hummus recipe is sure to convert you too. The tip to keep in mind while adding any vegetable to Hummus is to cook the vegetable with enough flavour before adding it to the Hummus.

INGREDIENTS: The ingredients used to make my Green Pea Hummus are very simple pantry staples. Green Peas, Chickpeas, fresh Coriander, Garlic, Lime Juice, Salt and Tahini are all added to the blender along with some Aquafaba/ boiled Chickpea Water and blended until very smooth and creamy.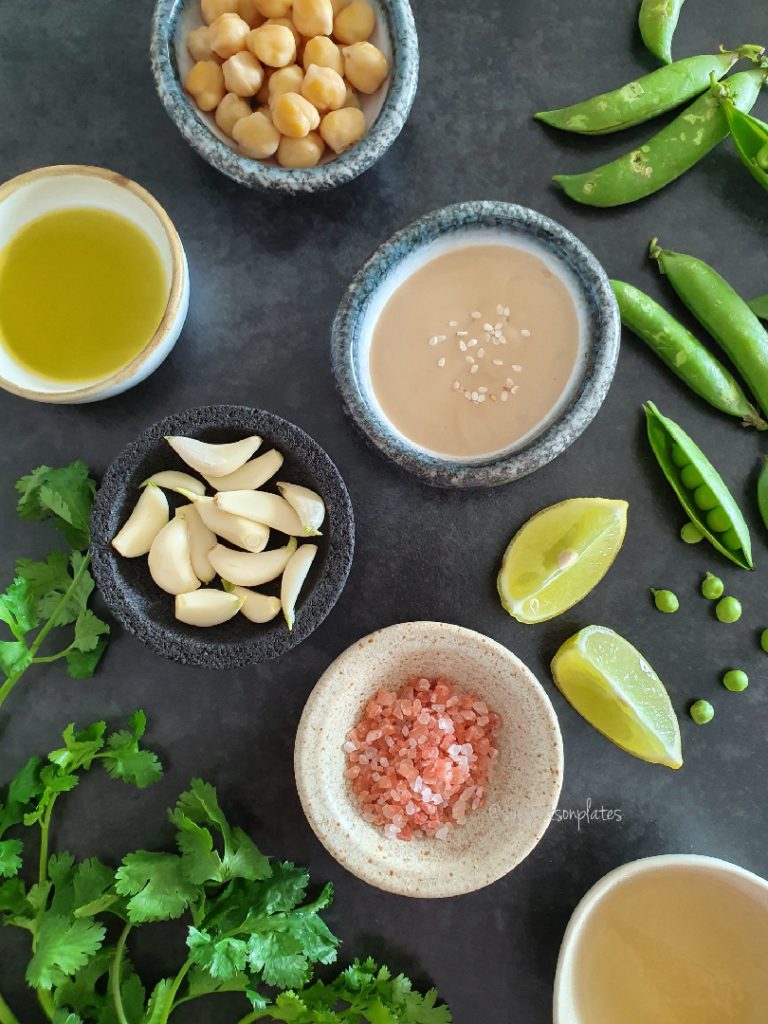 HOW TO MAKE GREEN PEA HUMMUS: To make Green Pea Hummus, I toss few Garlic cloves with some olive oil in a pan and sautee them until light brown. I now add the shelled Green Peas and some Salt and sautee them on a low flame until cooked. Do not cover the Peas while cooking and try not to over cook them, else they will lose their vibrant green colour. Once the Peas are cooked, I transfer them to a plate and leave them to cool.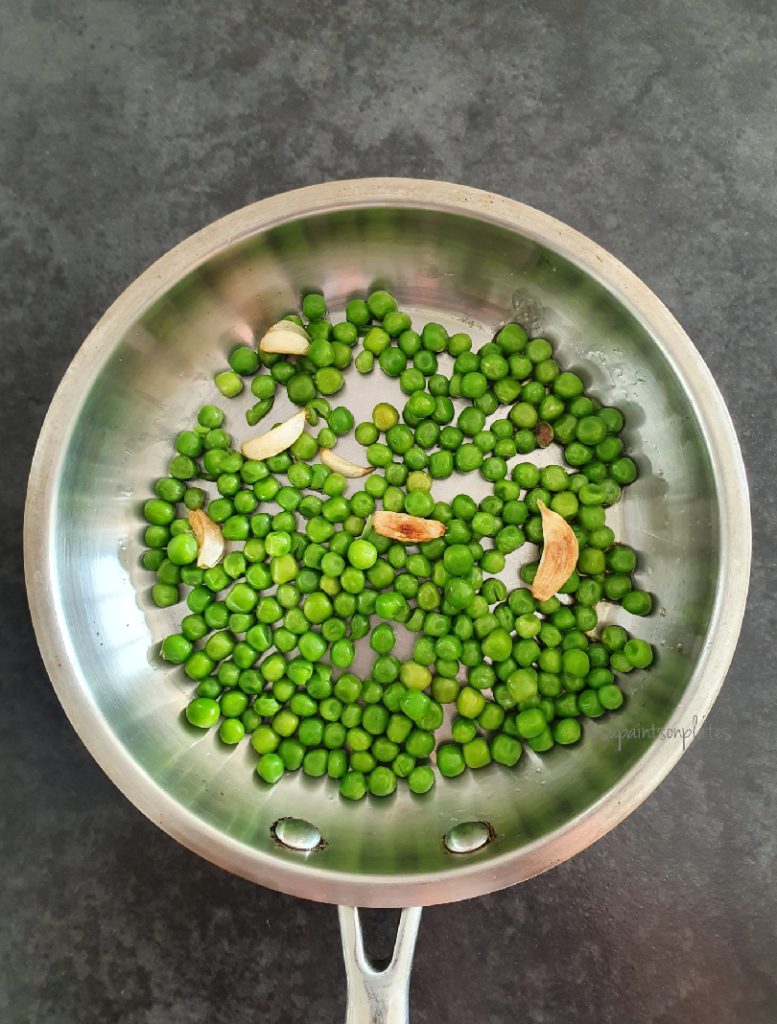 After about 10 minutes I add the Green Peas to a high power blender along with the Coriander, Garlic, Chickpeas, 3/4th Cup (Aquafaba), Lime Juice and only a little Salt (as we already added some Salt to the Green Peas). I blitz these ingredients on high speed to a very fine consistency. Add more Aquafaba if needed and check the seasoning, add more Salt if required. Blend again until the Hummus obtains a velvety consistency.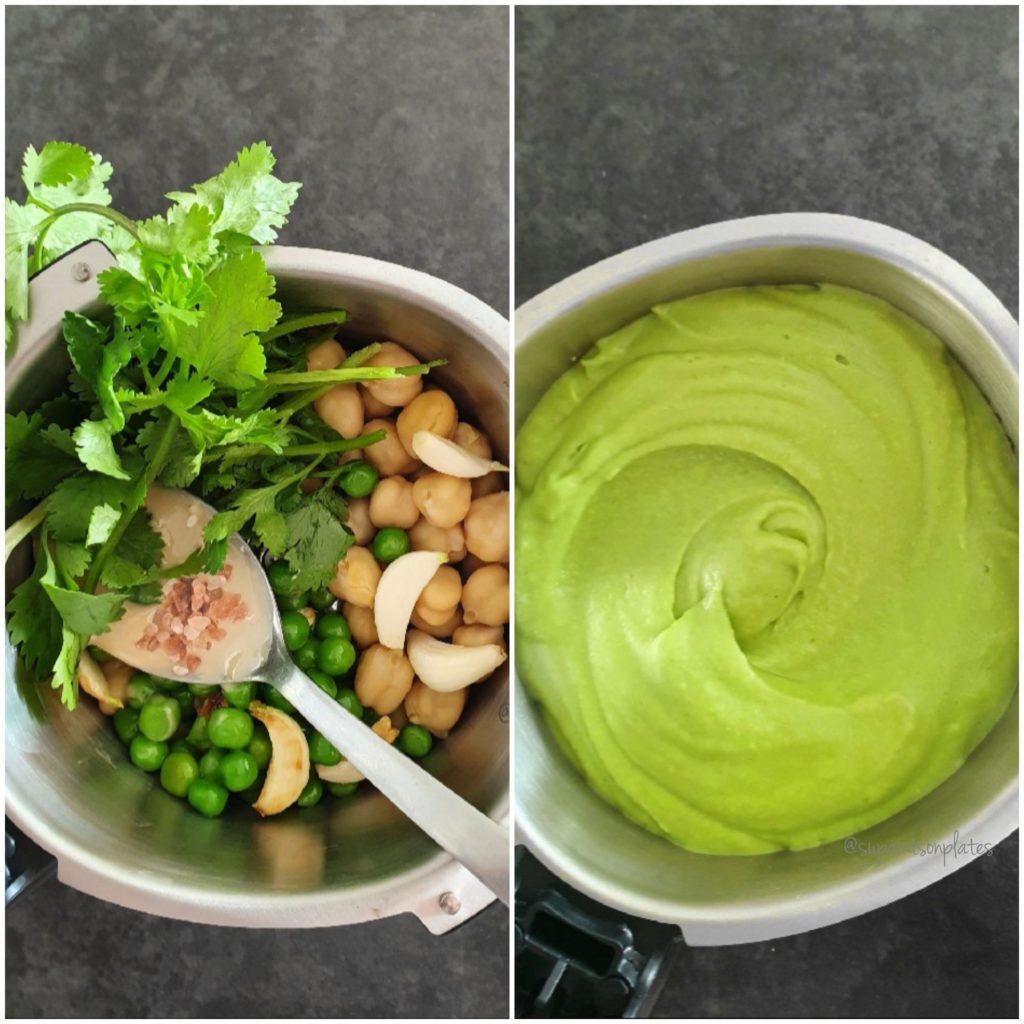 Transfer the Pea Hummus to a serving bowl, top with a generous drizzle of Extra Virgin Olive Oil and toppings of your choice. Your vibrant and delicious Green Pea Hummus is ready to be devoured.

HOW TO SERVE GREEN PEA HUMMUS: Pea Hummus is so versatile it can be paired with Crackers and Vegetable Sticks. You can also slather this Pea Hummus on Sandwiches and pair it with grilled Meats and Kebabs. I especially love making open Pita Sandwiches with my Green Pea Hummus. I top grilled Pita with the Pea Hummus, some Cucumber salad and baked Falafel (as seen in the picture). This makes for a quick, simple, healthy and delicious lunch.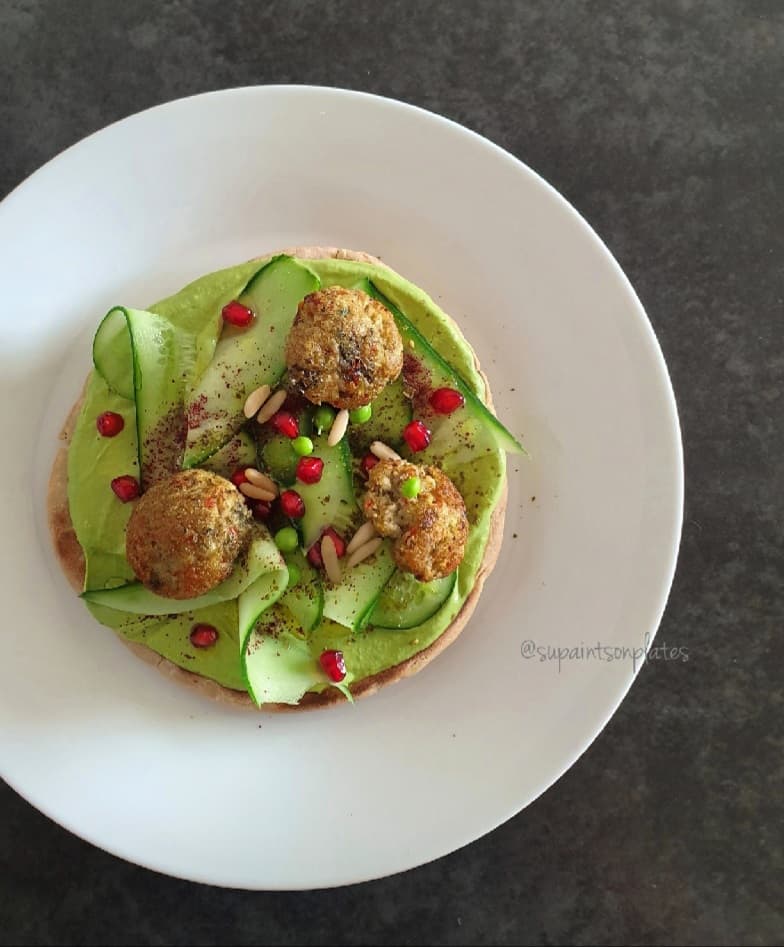 It's Christmas and my vibrant Green Pea Hummus adorned with little jewels of Pomegranate is just the perfect addition to your Xmas brunch spread. Do make it and tag me on Instagram @supaintsonplates #supaintsonplates . I would love to hear from you.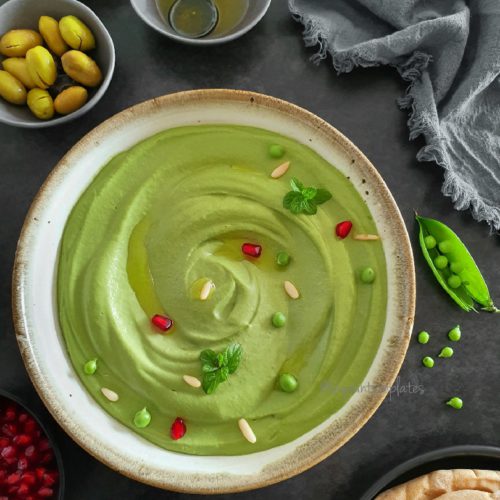 Green Pea Hummus
A Christmas special Green Pea Hummus adorned with little jewels of Pomegranate.
Ingredients
3/4

Cup

Chicpeas

1/2

Cup

Green Peas

2

tbsp

Lemon Juice

7-8

Garlic Cloves

1/2

Cup

Fresh Coriander

Salt to taste

1

tbsp

Tahina

1

Cup

Aquafaba / Chicpea water
FOR GARNISH:
Few

Green Peas

Few

Pomegranate Arils

Fresh mint

few sprigs
Instructions
Soak the chickpeas overnight and boil in a pressure cooker with some salt until very soft.

Leave them to cool to room temperature and store in the refrigerator for a couple hours to chill.

Add 2 tsp Olive Oil to a pan, once warm add 3-4 cloves of Garlic. Sautee until light brown. Add the shelled Green Peas and some salt. Sautee on open flame until cooked. Keep aside for few minutes to cool.

To a blender add the Chickpeas, Green Peas, Coriander, Tahina, Lime Juice, 3/4th Cup Aquafaba and 2-3 Garlic cloves. Add little salt as we already put some while cooking the Green Peas.

Blend to a smooth paste. Add more aquafaba if needed.

Top with Green Peas, Pomegranate and fresh Mint. Or any other toppings of your choice.

Refrigerate for an hour and enjoy!!
FAQ's
Q) How long can I store the Hummus in the refrigerator?
A)You can store Hummus upto two days.

Q) Can I make Hummus with canned Chicpeas?
A) Yes you can make Hummus with canned Chickpeas however it won't taste the same as when you boil your own Chickpeas. It will also not be as creamy as canned Chickpeas are slightly al dente.

Q) Can we make Green Pea Hummus with frozen Chickpeas?
A) Yes absolutely if fresh Green Peas are not available, you can definitely use the frozen kind.