Gajar Halwa is the quintessential North Indian Dessert. Every winter when fresh Red Carrots hit the market, every home in my hometown whips up a huge batch of Gajar Halwa. In my mother's home, the halwa is stored in the refrigerator for few days and every day after lunch we would sit in the garden in the winter sun with a bowl of piping hot Gajar Halwa. The joy of devouring mouthfuls of this decadent dessert cannot be explained in words.
The recipe for Gajar Halwa mostly remains same in each home with a few changes.Some people like to cook it down in ghee, some cook it in milk and some recipes demand mawa/dried whole milk . My mother always went the harder route and cooked the Gajar Halwa in fresh whole milk from the farms.My parents stay on the country side therefore fresh organic produce is available in plenty. Mother would add Ghee and Milk to Carrots and leave it on a low flame in a wide open pot to sweat and cook down for hours. The result was a fudgy, melt in your mouth, seductive deliciousness. Till date I have yet to find a Gajar Halwa as good as my mom's.
My Gajar Halwa today is a little different. Staying true to my love for simple, short cut recipes, I made this Halwa for a friend who was coming home for lunch and had dairy intolerance. I find replacing cows milk with coconut milk works best with Indian desserts as coconut milk is thick, delicious and well suited for Indian palette.
To make this bowl of Gajar Halwa, I grate a kilo of winter carrots. I add a tbsp of cold pressed Coconut Oil to the pan, heat it gently and add the Carrots. I cook this on an open flame, waiting patiently for the carrots to cook and for the water to evaporate. Once this is achieved, I add a few heaping tablespoons of Coconut Cream/ thick Coconut Milk, Jaggery, Cardamom powder and chopped nuts. I continue to cook this on low heat until the halwa looks fudgy and all ingredients come together.

I find that carrots and coconut taste great together in this recipe. I always prefer Jaggery over sugar because it gives an intense caramelized flavour to desserts. If you are looking to try a vegan Gajar Halwa recipe without compromising on flavour, your search ends here.

Do try this recipe this Diwali and let me know what you feel. Don't forget to tag me @supaintsonplates #supaintsonplates on Instagram.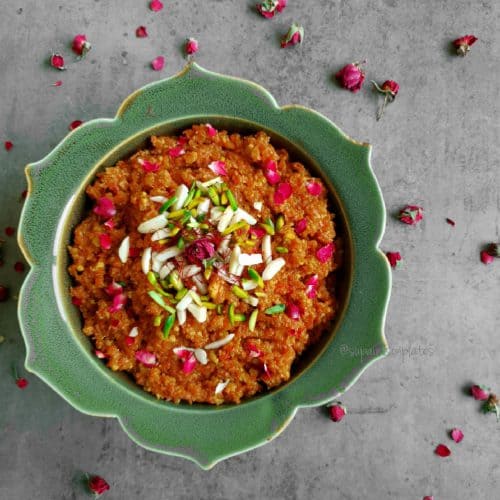 Coconut Gajar Halwa
Vegan Gajar Halwa made with winter Carrots and Coconut Milk
Ingredients
1

kg

Red Carrots

1

tbsp

Coconut Oil

Jaggery Powder

to taste

1/2

tsp

Cardamom Powder

4

tbsp

Coconut Cream

1

tbsp

Slivered Pistachios

to garnish

1

tbsp

Slivered Almonds

to garnish

Few Rose Petals

to garnish
Instructions
Wash, peel and grate the Carrots

Add Coconut Oil to a heavy bottom pan and heat on a low flame

Once the oil is hot, add the carrots

Cook the Carrots (without covering) until they are mushy and the water has evaporated

Add Jaggery and mix and stir until well incorporated and the Halwa thickens

Now add the Coconut Cream and cardamom powder

Stir well and let this cook for few minutes until the Halwa is thick and fudgy

Transfer to a serving dish and top with nuts and rose petals.
Notes
Ideally i would suggest using Coconut Cream for this recipe. However if Coconut Cream is not available, store the can of Coconut Milk in the refrigerator for few hours. When you open the can, the cream would have set on top and the liquid would have separated. Use the thick cream on top.
You can use the liquid to make milkshakes, curries, smoothies etc.