This Dal Palak takes me back to my grandma's kitchen where she spent hours fussing over a simple pot of Lentil. Her love and devotion was so astute, one could feel it intensely just observing her cook. I would spend hours watching her, learning from her and my young impressionable mind absorbed her love and passion for food to such an extent that even though she left us eighteen years back, I still feel her presence in every dish I cook. Isn't it the most beautiful blessing to have learnt from a soul so pure and devout.
This "Dal Palak" (green Mung Beans and Spinach) may look simple however my grandmother poured all her love into this dish, just like she did with all her recipes. She would stir the pot of Lentil for hours to get the perfect creaminess. The Lentil and Spinach were tempered with homemade clarified Butter, herbs and spices and simmered for hours.
She served this beautiful buttery delight with crisp rotis (indian bread) which were made in the Tandoor (clay oven). Im sure you get the picture now that my grandma was a very passionate cook. She could turn even the simplest of recipes into a fancy meal.
The essence of my Dal Palak is same as my grandmother's, however I have simplified the recipe as I'm always pressed for time. I have also swapped Butter with Mustard Oil as I love the taste and also because I try to avoid dairy as much as I can.
So here it is, one of my favourite recipes, Green Mung beans tempered with Mustard Oil, Ginger, ground Coriander, Turmeric and Green Chillies. I leave the Spinach to be added towards the end to retain the vibrant green colour. Lastly add a touch of garam masala and a squeeze of lime to make the dish sing!! Enjoy with a bowl of steamed Rice or Roti.
Do tag me on Instagram @supaintsonplates #supaintsonplates if you make this recipe. I would love to hear from you.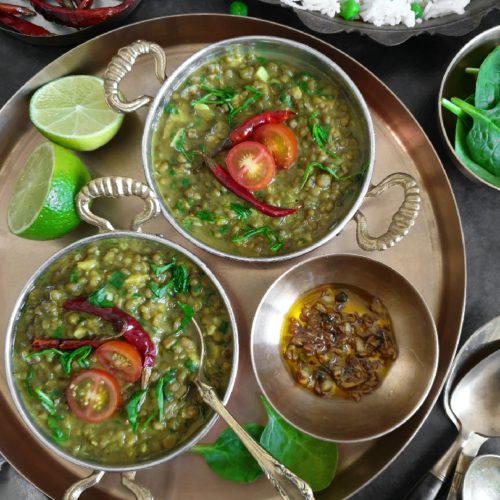 DAL PALAK
A unique lentil and Spinach dish made with Green Mung Beans, Spinach, herbs, spices and Mustard Oil . A delightful simple dish that tastes like home!
Ingredients
1

Cup

Green Mung Dal

whole

4

Cups

Water

8-10

Garlic Cloves

1

tbsp

Ginger

finely chopped

slit Green Chillies

to taste

1

tsp

Cumin

1

tsp

Turmeric Powder

2

tsp

Coriander Powder

1/4

tsp

Hing/ Asafotida

Salt to taste

1

tbsp

Mustard Oil

2

Cups

baby Spinach

1/2

tsp

Garam Masala

Juice of 1 Lime
Instructions
Soak the lentil in water for couple hours. Wash well.

Add lentil, Salt, Turmeric and Water to a pressure cooker and cook for 3 whistles.

Add Mustard oil to a pan. Once hot, add Asafotida and Cumin.

Once the Cumin crackles, add ginger and sautee until brown.

Add Green Chillies and Coriander Powder and sautee for a few seconds

Add this tempering to the boiled lentils and leave to simmer on a low flame

Chop the Spinach leaves finely

Add the chopped Spinach to the lentils. Simmer slowly for 5-6 minutes until the Lentil gets a thick consistency

Add Lemon Juice and Garam Masala

Serve hot with some Rice or Roti.