Steaming hot Potstickers dunked in Chilli Oil, Soy Sauce and loads of fresh julienned Ginger. This is how I've loved eating dumplings for years. I've never made Chili Oil or dumplings at home, however I'm so glad I gave in and gave it a try. I have a long way to go with my dumpling making skills however this Chilli Oil is on point. .
.
Although there are many different ways you can make Chili Oil with various herbs, spices etc, I absolutely love how magical garlic and sesame tastes with red chillies.
Do try and let me know what you think. You can tag me in your pictures on Instagram @supaintsonplates #supaintsonplates. I would love to hear from you.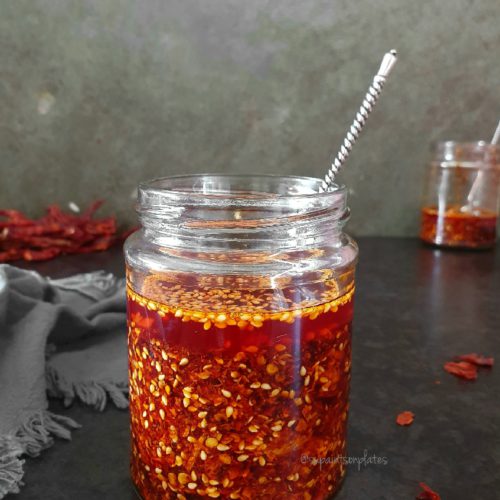 CHILI OIL
The perfect accompaniment to your dumplings, noodles and soups. This recipe packs a punch.
Ingredients
1

Cup

Vegetable Oil

15

Cloves of Garlic

1

tbsp

Seasme Seeds

1/2

Cup

Chili Powder

coarsely ground

Salt

to taste
Instructions
Add Oil to a saucepan and cook on a low flame until the Oil is hot

Now add 12-15 cloves of lightly crushed garlic (I like to leave the skin on), heat this oil on a low flame for 10-15 minutes until the garlic gently cooks and obtains a light brown colour

Add 1/2 Cup Coarse chilly powder (I made my own in a blender with whole chillies) and salt to taste to a thick glass jar or bowl

Pour ththe piping hot oil and garlic cloves over the chilly powder and stir well until everything is mixed

Once the chili oil cools down, you can secure the lid, refrigerate it and use it upto a month.