When I was in Grade six, my father an engineer by profession was transferred to Calcutta for few years. Since our school and my mother's job was in Dehra Dun we couldn't move to Calcutta with him. However every time we had vacations we visited my dad. I have vivid memories of those holidays spent in Calcutta. I especially remember the exotic Bengali food which I tasted for the first time in my life. The crisp slightly sweet Singhara (bengali cousin of Samosa), the pungent and addictive Jhal Muri (kind of Bhel seasoned with raw mustard oil), the mouthwateringly delicious puchkas (I've yet to find puchkas/ pani puri as good as the ones we had in Calcutta), and not to forget the array of fresh melt in your mouth desserts. The irresistibly delicious Nolin Gur Rasgullas, the milky Sandesh and the caramelized Mishti Doi were my absolute favourite. They were not overly sweet and tasted fresh, delicate and absolutely delicious.
It has been years since I last visited Calcutta. Fortunately many sweet shops in our city do serve spongy Rasgullas, Mishti Doi and other popular Bengali sweets so we can have our fill. This Diwali, I thought of making an old favourite, Sandesh. Sandesh also known as Sondesh is a famous Dessert originating from Bengal. It is made primarily from Milk and Sugar. This milky goodness is so simple to make, it literally takes no time. You know I love such low effort recipes that seem like you spent hours slaving over them.
To make these, I like to make Chena/ Paneer at home. You can either crumble the Chena with your fingers and continue to knead until it looks creamy or if you want to save time, add the Paneer to the blender and pulse few times until it becomes soft, creamy and of a spreadable consistency. I then roast this slowly on the stove with a little cardamom, powdered sugar and powdered milk until it cooks and the rawness leaves. A thing to remember here is to cook this on a very low flame so that the white colour of the Chena remains unchanged. Once cooked, let this mixture cool. Add finely powdered cashew powder (this is my addition and not used in a traditional recipe), mix well and roll into small balls or any shape of your choice.
You can store the Sandesh in the refrigerator for a few days, however I seriously doubt they will last long. When I made them, they were all gone the moment I finished photographing them.
I urge you to try my simple yet delicious recipe this Diwali. Do tag me @supaintsonplates #supaintsonplates on Instagram and let me know how you like it.
Happy Diwali!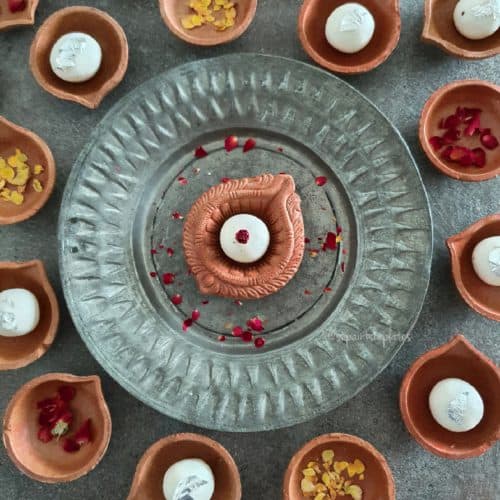 Bengali Sandesh
My version of a delicious Bengali sweet made with fresh Cheese, Cardamom and Cashews.
Ingredients
3

Cups

Chena/ fresh Paneer

3

tbsp

milk powder

3

tbsp

Cashew Powder

1/2

Tsp

Cardamom Powder

powdered Sugar

to taste

Rose Water

few drops
Instructions
Add the Chena/ Paneer to the blender and pulse a few times until creamy

Transfer the chena to a mixing bowl

Add sugar and milk powder and mix well

Transfer this to a pan and cook on a low flame for 4-5 minutes until thick

Remove from the stove, let it cool

Add cashew powder and rose water and roll into balls or any desired shape
Notes
To make fresh Chena/ Paneer take 1.5 litres of full fat milk and bring to a boil. Add 2 tsp vinegar/ lemon juice and let the milk curdle. Line a large strainer with a muslin cloth. Strain and separate the Paneer from the whey. Now wring the Muslin cloth tightly and remove all the excess water. Your fresh Chena is ready to use.